Many Advantages to Online Games
You can enjoy the live casino experience without setting foot inside a land-based casino. That's because the top online casinos have options for live games with live

There are occasions when we here at ReadyBetGo want to bring you interesting facts about the gambling industry When something catches our eye, we will publish it for your enjoyment.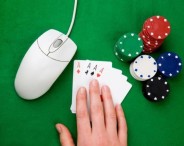 dealers.
The casino live experience is nearly as fun at home as it is in Las Vegas or Monte Carlo, and you can win just as much money. You could play live poker, blackjack, craps, roulette, progressive slots and many other games.
Your opponents will be other live players, and the dealer could be a live person, or computer-controlled. The choice is all yours.
You can play from the comfort of your home computer, and still enjoy the camaraderie that comes with live gaming at a casino table. Yet, you don't have to worry about other players seeing your cards, or reading any of your tells.
Online gambling eliminates many of the concerns players have with live casino gambling. But you still can play live games with all of the same excitement and fun of a casino resort.
When you play online, you don't have to put up with cigarette smoke and loud noises in your ears. You also don't have to worry about catching the cold, flu or other possible illnesses from your fellow gamblers.
When you opt for live online gambling, you can play games that sometimes last for days or even weeks. A poker table, for example, might have several players rotate in and out of the same game over a period of time.
That makes it possible to find a particularly good game and keep coming back to play more when you have the time. With the live option, you also get a better social experience, and can have fun playing with friends and acquaintances.
When you play with a live dealer, the experience becomes even better. That's because the dealer can lead the action, while ensuring all plays are done correctly.
If you have any questions, the dealer can answer them, as well as help keep the social aspect of the gaming experience fun.
Modern technology makes it possible for you to see your live dealer, which often will be a woman. Most gamblers online are men, so most online casinos hire women to be live dealers.
Streaming and video technology superimposes the dealer at your table, so it looks and feels much more like a live casino gambling experience.