Live dealer casinos are still a growing niche in the gambling industry. By the end of this guide, you're going to know how to play live dealer games on your computer or mobile device. Plus,

There are occasions when we here at ReadyBetGo want to bring you interesting facts about the gambling industry When something catches our eye, we will publish it for your enjoyment.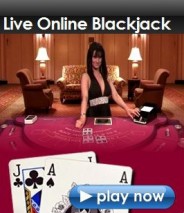 what games are currently available to play.
Have you ever wished you could take the brick and mortar casino experience home with you? Thanks to technology, it's possible. In fact – some land-based casinos actually operate live dealer studios for clients to play online.
Why Are Live Dealer Games Growing In Popularity
Traditional casino games utilize random number generators (RNG), but an increasing number of players prefer playing games with live dealers. The main reason is because players trust the product more than RNGs.
Don't get me wrong, RNGs are tested by third-parties to ensure fairness. However, players trust the games more when a real dealer is at the table dealing out real cards or spinning the wheel in the case of roulette.
As technology improves globally, live dealer casino games will eventually be more popular than RNG games. We receive a lot of FeedBack Online Casino information from our readers and most are already enjoying live dealer games.
Popular Live Dealer Casino Games
The three most popular live dealer casino games are blackjack, roulette and baccarat. These three games are among the most popular in brick and mortar casinos, so it makes sense they're the most common casino games with live dealers.
Some online casinos offer other live dealer casino games as well, such as casino poker variants or Sic Bo. The selection of games remains limited because live dealer casino games still aren't as popular as traditional online casino games.
Unfortunately, most online casinos don't allow you to play live dealer games with play money. The reason is because the games cost more money to run, since the company needs to purchase studio equipment and pay dealers.
Where to Play Casino Games With Live Dealers
The majority of online casinos offer a live dealer studio. Some companies partner with a software provider to offer live dealer games, while some online casinos build a fully-branded studio with their own games and dealers.
Several brick and mortar casinos have entered the market as well. Software providers like Evolution Gaming offer land-based casinos the opportunity to set-up a live dealer studio, which allows customers to play online.
If you frequent a brick and mortar casino, you should find out if they offer online gaming as well. The loyalty program and promotions are often connected, so it's beneficial to find out if you're local casino offers online gaming.
Land-based casinos in countries where online gambling is regulated have been entering the online space much more frequently than in the past. Another benefit for players is that they get to play with a company they know and trust.
For example, you can play casino games live from the Fitzwilliam Casino in Ireland at DublinBet. To find out where else to play live dealer games, we recommend visiting Casino Sonalia and viewing their updated rankings.
How to Play Live Dealer Casino Games
Casinos utilize live streaming technology to offer live dealer casino games in studios across the world. Real dealers will deal out cards and players can view them being dealt in real-time through live streaming video.
With that being said, you'll need a solid Internet connection to play these games on your computer, smartphone or tablet. If you have a 3G or 4G connection you should have no problem playing live dealer games on your mobile device.