The global gambling industry is growing at a rapid pace, with a growing number of online casino sites and players. It is really a worldwide phenomenon, and it is also present in Japan. Actually, the

There are occasions when we here at ReadyBetGo want to bring you interesting facts about the gambling industry When something catches our eye, we will publish it for your enjoyment.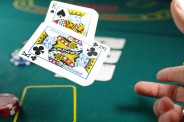 Unsplash - Photo by Michał Parzuchowski rise of casino sites is very evident in this country, and there are many reputable, popular online casinos in Japan.
On the other hand, the number of high-quality casino games is also increasing, and a lot of players have a chance to play top casino games in many variations. Live casino games are also getting more attention because they come with a set of advantages. Here we explore, in more detail, the pros of playing live casino games online.
Realistic Gaming Experience
The main difference between live casino games and table casino games is that the live casino games are set up with a real human dealer in an authentic setting, and you get to interact with real people and play in real-time.
They require a lot more investment because casinos need live streaming technology, special video cameras, a croupier, and a studio where the game takes place. Hence, usually, the stakes are higher when you're playing live. The live casino games are part of the collection of the games on online casino sites, although there are casinos that might not include live casino games in their portfolio.
On the other hand, table casino games are powered by RNG technology, they have great graphics, but you don't play in a realistic setting with a real dealer. Also, the pace of the game compared to live casino games is faster. Moreover, Virtual Reality technology offers even more options for an immersive gaming experience.
So, live casino games are a good option for high-rollers that want to play their favorite casino games in an authentic gaming environment. However, you will need a stable internet connection in order to play live casino games and have a smooth gaming experience. Any interruptions can cost you, so keep in mind that you need to play with a reliable connection. Also, most casino sites do explain in more detail the technical requirements for your device.
Vast Collection of Games
The number of live casino games keeps growing because there is also a huge interest in live casino games. So, you can play with human dealers, everything from roulette, baccarat, poker, blackjack, and other casino games. Some casinos also host live casino tournaments where you compete against other players and offer exclusive live casino games for their VIP players.
Convenience
Of course, convenience is an important factor when you play any casino games online. Fortunately, you can easily access mobile-friendly casino sites for your Android and iOS mobile devices. In addition, there are casinos that have developed mobile apps specifically for live casino games. So, in just a couple of taps, you can play live casino games on the move, as long as you are connected to the internet. In conclusion, the main advantage of live casino games is that you experience the thrill of land-based casinos from the comfort of your own home.