As technology evolves, so do our daily activities. Now, technology has made easier many of the things we do on a daily basis, such as shopping, working, learning, and of course, gaming. When it comes

There are occasions when we here at ReadyBetGo want to bring you interesting facts about the gambling industry When something catches our eye, we will publish it for your enjoyment.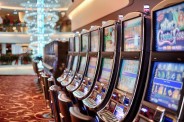 to gambling, there are two main types of casinos: land-based and online casinos. Land-based casinos have been around for centuries, while online casinos have been around for a few decades. The gambling laws in the US have gone through a long process. As more states continue legalizing online gambling, more people play at Caziwoo USA online casinos. However, many people still prefer to do their daily activities without using the internet as possible. So which option is better? In this blog post, we will compare the two types of casinos and discuss the benefits of each one.
Advantages of using online casinos
Online casinos, also known as virtual or internet casinos, are online versions of traditional (or "brick and mortar") casinos, where players can gamble on casino games using the internet. Let's take a look at the many advantages of using online casinos.

Availability
One of the main advantages of online casinos is that they are available 24/7, meaning you can gamble at any time convenient. Availability is a big advantage over land-based casinos, which typically open only during certain hours of the day.

Bonuses and promotions
Online casinos typically offer bonuses and promotions to attract new players and keep existing ones. These can include welcome bonuses, loyalty programs, and special promotions. These bonuses and promotions can add extra money to your bankroll, giving you more opportunities to win. Land-based casinos may offer some promotions and rewards programs, but they typically cannot match the generous offers of online casinos.

Wider variety of games
Another benefit of online casinos is the variety of games available. Online casinos usually offer hundreds, if not thousands, of different virtual casino games for players. These include traditional casino games such as blackjack and roulette and more unique and modern options like online slots and video poker. On the other hand, land-based casinos often have limited space, so they may not be able to offer a wide range of different games.

Better winning odds
Online casinos typically offer better winning odds for players, as the operating costs are lower, which means that online casinos can afford to offer higher payout percentages and jackpots.

Affordability
Online casinos are a more budget-friendly option than their land-based counterparts. You don't have to pay for travel or food expenses, and most online casinos offer free bonuses and other perks.

Safety
Many people worry about the safety and security of playing at online casinos. However, reputable online casinos use advanced security measures, such as SSL encryption technology, to protect players' personal and financial information. In addition, reputable online casinos are licensed and regulated by well-known jurisdictions, ensuring fair gameplay.

Convenience
One of the main disadvantages of land-based casinos is that they can be quite crowded and noisy, making it difficult to focus on the game. Online casinos offer a quiet and comfortable atmosphere, allowing you to focus on your gameplay. In addition, online casinos offer convenient options such as mobile compatibility and live chat support.
Disadvantages of using online casinos
Of course, there are also some disadvantages to using online casinos.

Security concerns
One potential concern is security and safety. When playing at an online casino, it's important to ensure that the website is secure and that your personal and financial information is protected. Researching a particular online casino's reputation and security measures is advisable before making any deposits or sharing sensitive information.

Lack of social interaction
Another potential disadvantage is the lack of social interaction. While some people may prefer to play alone in a quiet and comfortable atmosphere, others may miss the social aspect of playing in a physical casino.

Technical difficulties
In addition, there is always the possibility of technical difficulties. Online casinos may experience server issues or other technical problems that can disrupt gameplay and affect your overall experience.
Advantages of land-based casinos
Despite the many benefits of online casinos, some players prefer the traditional land-based casino experience. Let's look at some of the advantages of land-based casinos.

Social atmosphere
One of the biggest draws to land-based casinos is the social atmosphere and interaction with other players and staff. Land-based casinos often have a bustling and exciting atmosphere filled with lights, sounds, and crowds of people. This can add to the excitement of gambling in a physical casino setting.

Human interaction
In addition to the social atmosphere, land-based casinos offer human interaction with dealers and other casino staff. This allows for a more personalized experience and assistance whenever needed. Online casinos may offer live chat support but cannot match land-based casinos' immediate, in-person interaction.

Unique amenities
Land-based casinos often offer unique amenities such as luxurious hotel accommodations, gourmet restaurants, and live entertainment. These added perks can enhance your overall casino experience and make for a fun night out.
Disadvantages of using land-based casinos
Along with the advantages of land-based casinos, there are also some potential disadvantages.

Expenses
Physical casinos often require travel expenses and added costs such as hotel accommodations and dining at expensive restaurants. This can make playing at a land-based casino more costly than playing from the comfort of your own home.

Crowds
Land-based casinos can also be crowded, making it difficult to focus on the game and potentially causing discomfort for introverted players.

Lack of privacy
In addition, there may be a lack of privacy in a physical casino setting as other players and staff surround you. Online casinos offer a more private atmosphere where you can play at your own pace without distractions or interruptions.
Conclusion
Ultimately, the choice between online and land-based casinos comes down to personal preference. Consider your preferences and needs before deciding on a casino to play at. Both types of casinos offer unique benefits and disadvantages, so consider all options before deciding.