In recent years, online casino gaming has grown in popularity in India as more players are attracted to the thrill and excitement of the games. Over time, the country has come to accept casino gambling,

There are occasions when we here at ReadyBetGo want to bring you interesting facts about the gambling industry When something catches our eye, we will publish it for your enjoyment.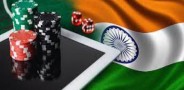 which gives players a fun and exciting time.
The best casinos in India offer a serene environment, luxurious facilities, and a wide range of games. Thanks to the growth of online casinos, Indians can now enjoy the excitement of casino games from the comfort of their own homes. We will explore the top five casino games played by Indians in this piece.
Top 5 Popular Casino Among Indian Players
There is an infinite selection of casino games in India. This can prove difficult when deciding where to begin. We've carefully chosen these top five casino games to give you a fun time when you play:
Teen Patti
This is a well-known card game that's played all over the Indian subcontinent. It is similar to the British game of "three-card brag" and is sometimes called Indian poker. The game is played with a standard deck of 52 cards, and the objective is to have the best three-card hand.
Players can bet on their hands or the hands of others, and the winner takes the pot. Teen Patti is an excellently entertaining game because of its simple gameplay.
Andar Bahar
Andar Bahar is another popular card game in India that originated in Bangalore. The game is played with a deck of cards, and a single card is drawn from the deck as the "joker." Players bet on whether the next card drawn will be "Andar" (inside) or "Bahar" (outside) of the joker card.
It is a simple game, but it is incredibly popular among Indian players. If you live in India and want to play regular Andar Bahar or Live Dealer Andar Bahar from your smartphone, laptop, desktop, or tablet, ReadyBetGo is one of the most trusted Indian online casinos.
Roulette
Roulette is a great option if you enjoy playing traditional casino games. This game is enjoyed all over the world, and it is no different in India. Roulette involves a spinning wheel with numbered slots, and players can bet on where the ball will land.
There are different types of bets in roulette, including inside bets and outside bets. The game is popular among both new and experienced players, and it can be very exciting when the ball lands on your chosen number.
Blackjack
This is another classic casino gambling game that is popular in India. It is the world's most popular casino banking game. The game is played with a deck of cards, and the objective is to have a hand that is closer to 21 than the dealer's hand without going over.
Players can choose to "hit" (draw another card) or "stand" (keep their current hand), and the game can be very strategic. Blackjack is a game that requires both luck and skill, and it is enjoyed by many Indian players.
Slot Machines
Slot machines are a staple in every casino, and they are incredibly popular in India as well. They are a great option for players who want to try their luck without learning complex rules or strategies. The games are simple to play, and they offer the chance to win big payouts with a small bet.
There are many different types of slot machines available, from classic three-reel games to modern video slots with multiple pay lines and bonus features.
Conclusion
Indians are undoubtedly having the time of their lives, whether they prefer traditional casino games like roulette and blackjack or card games like Teen Patti and Andar Bahar. Slot machines are also a great option for players who want to try their luck and potentially win big payouts. Whatever your preference, remember to always play responsibly and within your means.