The iGaming industry, which operates online casinos, poker rooms, sports betting, bingo, and lottery services, enjoyed a strong 2020 as the long-running trend of players making the jump from physical

There are occasions when we here at ReadyBetGo want to bring you interesting facts about the gambling industry When something catches our eye, we will publish it for your enjoyment.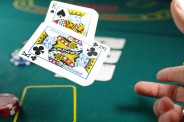 Unsplash - Photo by Michał Parzuchowski casinos and betting shops continued.
After a very brief dip in the spring, almost all publicly traded iGaming companies saw their share prices explode. Several of the biggest brands entered 2021 with a market capitalization twice as high as the year before. This was a similar trend that we saw from other gaming and tech companies as investors reacted to the swathes of positive financial results from these companies.
But what can we expect from the iGaming industry in 2021? Can it be as strong as 2020 and what changes are we likely to see?
Strong competition across the board
If you've ever visited a few online casino websites, you will have seen that almost all of them offer welcome bonuses to their new customers, like the one you can see here. This is a big part of the marketing efforts from these brands as they try to incentivize players to sign up to their casino over a competitor.
Classic game theory is at play here, as iGaming companies have to find a careful balance between offering a bonus that attracts more customers and being too generous that it forces their competition to react, creating a price war among the hundreds of online casinos.
With so many online sports betting sites, casinos, and poker rooms operating in many maturing markets around the world, we're likely to see much more of the same in 2021.
In the United States, where operators are scrambling to build market shares in states that have just legalized online wagering for the first time, we're likely to see bonuses grow even higher than the eye-watering sums offered in 2020.
A push for more live casino games
Online casinos like Betsson.com have been placing more and more emphasis on their live casino games. This is because they're proving to be huge hits with customers who enjoy the mix of convenience and realistic casino experience.
Casino software companies are likely to continue putting a lot of effort into creating new innovative titles like "Instant Roulette" which brings a new twist to classic casino games.
New innovations?
Over the last 25 years, we've seen three major innovations in the iGaming industry. The first was using the internet to give consumers the ability to bet, the second was moving to mobile devices, while the third was using video streaming to create live games.
Although some brands have experimented with emerging technologies like virtual reality, we're not likely to see any breakthrough innovations this year.
Continues growth?
It seems pretty safe to say iGaming companies are going to struggle to double their share prices again in 2021, but their current valuations are not unreasonable, so they won't necessarily fall.
If we enter a bear market, stock prices will fall across the board, and iGaming companies are unlikely to be immune from this. But that said, with new markets in the US and continued growth in Europe, there's no reason why iGaming companies can't continue to post strong financial results over the next 12 months.