One of the best things about online casinos is their accessibility. Even with $5, you can start playing and build a fortune in the casino. But of course, making it big in the best real money casinos

There are occasions when we here at ReadyBetGo want to bring you interesting facts about the gambling industry When something catches our eye, we will publish it for your enjoyment.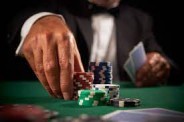 takes more than a wager. You must determine how to stand out and devise a strategy to take you to the top. We show you how to do this:
The Most Practical Casino Strategy
Do you go from newbie to pro in just a few days, or does it take a lifetime? The truth is that all it takes is some work to finetune all the areas that can help you rake in good money, as follows:
Choose Between Luck and Skill
The casino world boasts two categories: chance and skill. People who play games of chance cannot do anything about the outcomes, as the results depend on luck. Examples of such games include roulette, slots, and bingo. In this category, you enjoy perks such as simplicity and high payouts. However, you also give up control and cannot progress in the rankings as no skills are tied to the games.
People who want to make a career out of gambling go for games of skill like poker and blackjack. In these games, players get a say in the outcome. For example, a poker player can fold if they have a bad hand. On the upside, these games have high payouts, challenge your mind, make you better at making decisions, and have room for career growth. But on the downside, they are hard to play.
Consider what you want out of playing casino games and choose a category. Then, choose a game within this category, e.g., blackjack in games of skill.
Once you have found the game that fits your preferences, you must work with a casino that favors your choice. Consider the following factors:
Does the casino offer the game you want? Are variations available? What are the RTPs?
What payment methods are available? Are they fast, secure, and reliable? Do they incur charges?
Do you like the user interface? Does the site crash? Do you enjoy using the site?
Does the casino have a good reputation? What have people said about it? Are the reviews mostly positive?
How can you reach customer support? How often are they available? What are the average waiting times?
Does it have a license? Is it valid? Who is the licensor?
Take your time with this decision, as it will affect your playing experience, what you get paid, and how you get paid. It's best to use the most reliable operator to protect your data and finances.
One common thing with high-rollers is they find ways to save money by cashing in on bonuses. And this is one thing you can borrow by considering the bonuses that best suit your playing preferences as follows:
Signup bonuses: Many casino operators will give you this just for opening an account with them. Examples include free spins and free money to use on games.
Deposit bonuses: You get these by depositing a certain amount of money on the site. E.g., you can get 50% additional cash for your deposits up to $200.
Loyalty bonuses: If you are an avid player, this works in your favor as you can get regular promotions to reduce your spending needs.
Referral bonuses: These work for people who can convince others to join and play on a site.
When considering these offers, think of whether they relate to your goals. For example, if you want to play poker and a site offers free spins, such a bonus does not help. Keep looking until you find a site that favors you. The less money you spend, the easier it is to make a profit!
The next step after finding the right game, site, and bonus is to ensure you understand how to play the game you have chosen. And you do this in two parts:
Read about it: Start by understanding the basics. For example, if you want to play baccarat, you should start by reading how people play it. Get insights on the classic game, then look into its variations. Try to find out as much as you can.
Test your knowledge: Many sites offer demo games you can use to practice the game. As you win or lose each round, you will figure out how well you understand the game. You can then read more about it or start taking notes to outline your shortcomings.
Games of chance do not need much practice as you cannot affect their results. But games of skill require you to keep practicing even after you have started playing the game.
Set Up a Bankroll Management System
Your money management techniques can make or break you, and you should determine what works best for you before you start playing. Some players use negative or positive progression methods, others set a given amount for each wager, while others just cap their overall spending. The best option is to have a budget for each month. And once you have spent this amount, stop playing and do not chase losses.
Remember to be objective when playing and to take breaks when you start losing this objectivity.