Online casinos have been thriving as numbers have grown extremely quickly over the past eighteen months in particular, a changing demographic and older audience are getting into gaming in large numbers

There are occasions when we here at ReadyBetGo want to bring you interesting facts about the gambling industry When something catches our eye, we will publish it for your enjoyment.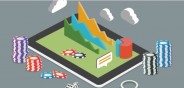 and mobile options are leading the way with some of the biggest here, but it has also led to the rise of different online gambling myths – but is there any truth to some of the more well known myths, or are they all born from bad experiences of the unlucky few that haven't been able to secure a big win?
Myth #1; Online casinos are rigged – It's easy to see how a number of big losses can sour the taste for some players and lead to the belief that wins are more difficult to come by at online casinos, particularly when the mechanics behind the scenes can't be seen – the truth is that online gambling is heavily regulated with lots of rules and restrictions, with the mechanics behind the scenes being heavily monitored and in many instances the games are in fact more fair online as the random number generators that run the game can provide better odds and lead to more wins too.
Myth #2; Online casinos are more addictive – This has been a myth circulating for quite some time as player numbers and player time has increased, leading many to believe that playing at an online casino is more addictive than offline options. Whilst there is some truth to longer hours being played, this is often due to the games being more accessible through platforms like mobile, but they are also packed full of features that help players monitor and restrict the time they play better which in many instances leads to better management of time for most players too.
Myth #3; Winning the big bonuses and jackpots is impossible – Much like the first myth, there are some floating around that it isn't possible to win the big jackpots – they're set-up in a way to be more difficult to win because of the bigger pay-outs but doesn't mean they're impossible. The same is true for offline play options too with the bigger wins being a bit harder to come by, but that doesn't mean it's impossible – keeping this in mind when looking to play at an online site can save a big headache for some players thinking the win won't happen.
These are just a few of the many, whilst some myths may hold a small amount of truth they're often not worth paying any mind to – reading expert reviews and trying services out on a case by case basis provides the best insight for any new service and help identify the best places to play at.