Casinos have been a part of our society for well over three hundred years. Gambling itself dates back even further, to the Ancient Greek times (if not beyond) but the first recognisable Casino appeared in Venice,

There are occasions when we here at ReadyBetGo want to bring you interesting facts about the gambling industry When something catches our eye, we will publish it for your enjoyment.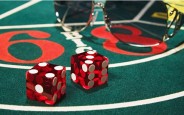 Italy, way back in 1638. Since these early days, everything about the Casino experience has changed, from the games that were played, all the way through to the amount of money on offer that can be won or lost. It is likely that the Italians in the 1600s would recognise very little if they were to time travel to the modern day, and were to visit Las Vegas or Atlantic City.
The one thing that hasn't changed since then is people's desire to throw the dice, to risk losing money on the chance that they might win some in return. Casinos, and gambling more generally, has always done well in presenting the idea that if you're smart, or more importantly lucky, you can win big. The reality is that the house will always win eventually, but they don't want to break the gambler's fallacy.
One of the key shifts in the industry over the last ten to twenty years has been the move to introduce online casinos. No longer do gamblers have to travel tens, hundreds, or possibly even thousands of miles to visit casinos in person. Now, they can place bets, roll the roulette wheel or try to land a royal flush from the comfort of their home. The modern online casinos have truly revolutionised the gambling industry like nothing else before it.
It is not just casino games that are available online. There is also a whole host of some of the best sports betting sites available to the average sports bettor now, meaning they can receive odds on all kinds of matches in faraway places, that previously they would never have had access to. It truly is an exciting time to get involved in online gambling, whether it is in sports betting, or with the more traditional casino games.
Unsurprisingly, there are thousands, if not millions of fun gambling games out there. If you have never tried one out before, then the choice can appear to be quite overwhelming. Therefore, we are going to try and point you in the direction of some of the top games that we feel everyone should try, to see if they strike lucky and land a few extra dollars, pounds or euros.
Know what you don't like, even if you don't know what you like yet
If you were to visit a restaurant for the first time and were blown away by the amount of choice, then the first thing you'd do is stay away from the food you don't like. If you know you don't like fish, then trying the Salmon isn't going to be a smart move. The same applies to online games. If you know that you don't like card games in real life, don't look for Blackjack or Poker games. Not a fan of soccer? Then any soccer-related games won't be for you. It sounds obvious, but it is important information to consider.
Slots games are a great entry point
Slot games have been an integral part of casinos for a very long time. Their popularity stems from the idea that they, more than any other form of gambling, don't require any skill whatsoever. All it involves is spinning a reel, and hoping you strike lucky. It really is that simple.
Nowadays, online video slots have really progressed from the basic ones that were first introduced in the early 20th century. Companies spend a lot of time designing them, to make them as enjoyable and as engaging as possible.
The most popular slots of 2020 were Goblin's Cave, Starburst, Sunrise Reels and Private Eye. They are all slightly different, but all equally as fun to play. All of these are available in free demo versions, or on sites that require you to deposit some cash before spinning. All of these are easy to understand, so we would wholeheartedly recommend them.
Classic casino games are also a lot of fun
Blackjack, Roulette, Craps and Texas Hold'em are all universally popular, and still see a huge number of people playing them online. With these types of games, it is always important to only bet what you are comfortable with and that you don't go beyond your means when placing bets. Thankfully these days there is such a wide variety of online casinos, some of which cater to the more amateur players out there, while some are more suited to the high rollers amongst you.
Given how much choice there is available online to gamblers, if you put the time in and do some research, you are sure to find the perfect online gambling game for you.