The gambling world is known for being in a constant state of flux. Online casino operators are always looking for opportunities to provide players with a more engrossing, immersive and exciting

There are occasions when we here at ReadyBetGo want to bring you interesting facts about the gambling industry When something catches our eye, we will publish it for your enjoyment.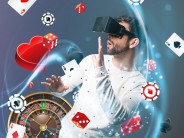 Are virtual reality casinos the next stage in the evolution of casinos? casino experience that can truly give them a bang for their buck.
While online casino gaming started off with simple games that attempted to reproduce the Vegas experience of playing Blackjack, Roulette, Craps or even slot machines, they have evolve their offering throughout the years to meet the demands of their players and provide them with an overall much more satisfying experience. From introducing aspects that allow players to interact and even compete with other players, to recreating a realistic casino experience by using live dealers, to now embracing VR technology to take immersion to the next level, the online gambling world has changed immensely since its humble beginnings and is set to take huge innovative steps in the years to come.
Gamification of Gambling
Some of the most effective and engrossing additions that online casino operators have added to their offerings have been inspired by the world of videogames and mobile gaming. The idea to implement aspects of 'gamification' to gambling has added a whole new dimension to the casino experience.
The idea behind gamification is to add trophies and rewards based on the players accomplishments. While these rewards are often in the form of free spins, wilds, scatters and multipliers, they can also come in the form of visual or auditory cues that serve as psychological reward to players. Anytime a player experiences a big win, the game will not only reward him with cash but also with colorful graphics and celebratory lights and music that are certain to release some dopamine and make him feel good. While that might not seem like much of a reward it's all that players of mobile games like Candy Crush get for their efforts, and Candy Crush has amassed over 400 million active users across the years – many of which have played hundreds, if not thousands, of hours.
But gamification is not only about adding shiny graphics and music to games. It's also about feeling like you are competing against fellow players and have the chance to accomplish something impressive. Gamification casino pioneers Casumo Casino have been very successful with their model that features plenty of gambling quests and missions that require you to perform certain tasks in order to unlock items, levels and much more, as well as featuring leaderboards and social feeds that allow players to compete against other players and see how they are matching up against them in their quests. This feature has been highly successful and earned them a fantastic Casumo casino review from players, as it allows them to feel as though they are socializing and part of a bigger experience than their lonely casino sessions of yore. To find out more on Casumo's gamified platform you can read this Casumo review.
Another gamified feature that many casinos have added is adding a progression system. Progression systems allow players to "level up" their avatar or their account, which in turn offers the player not only special rewards, but also a feeling that they are advancing towards something. It motivates them to play more to reach the next level.
While all of these features seem like they are simply made to make you play more, the truth is that they work because they make for a more entertaining and casual gambling experience. With new generations growing up playing video games, it only makes sense that gambling adapts to make the old Vegas favorites appealing to new generations that look to connect with others, as well embark themselves in an immersive quest filled with flashy games and exciting gameplay.
Live Casinos bring Vegas to your living room
With live streaming technology now being readily available throughout the internet, online casinos have taken the opportunity to launch Live Casinos. Featuring a live video feed of player's favorite casino table games dealt by human dealers in elaborate casino-style TV sets, players are then allowed to place bets on the action for games like Blackjack, Roulette, Baccarat and other popular games. By also featuring a chat function, players can interact with dealers and with other users that are virtually sitting in the same table, providing players with a realistic Vegas casino experience.
Not only does the live casino provide a realistic casino ambiance, but unlike digital casinos which use random number generators, the live casino allows players to see the physical handling of the cards and spinning of the roulette allowing for more transparency and authenticity to the proceedings.
Virtual Reality and Augmented Reality – The Next Frontier
While the adoption for VR and AR technology has been slower than expected and they have not yet hit the mainstream market, there is little doubt that VR gambling is where the future is headed. With juggernauts like Facebook, Google, HTC and Sony investing billions of dollars into its development, it's only a matter of time before VR and AR absolutely explode and we begin living in the virtual era.
With that in mind, the online casino industry has recognized the potential of allowing players to enter a realistic Vegas casino from the comfort of their home, or even a high def 3d virtual environment that far exceeds the opulence of anything Vegas can match. The potential of players completely immersing themselves into the game in its surrounding environment, as well as fully interacting with other player's avatars and live dealers is certain to bring online gambling to the next level and the online casino world is already on the job.