What Are 'Rigged' Casino Games?
It isn't uncommon to hear players accuse

There are occasions when we here at ReadyBetGo want to bring you interesting facts about the gambling industry When something catches our eye, we will publish it for your enjoyment.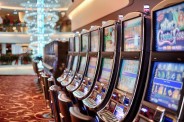 casino games of being rigged when they put their money into a casino, wager it on games and lose. Rigged casino games are classed as games that are designed for the player to lose, meaning that the casino will take your money. For a casino to be rigged, players mustn't stand a chance of winning at all.
As far as we are aware, there are no licensed casinos that are rigged. If you decide to play at an unlicensed casino, well then unfortunately that is on you.You're running the risk of being cheated out of games. Even if a casino is licensed, it doesn't mean you'll win. Gambling is a risk, you should always gamble responsibly.
Are casino games rigged?
This is a fair question that gamblers ask… Casinos are businesses that offer games that allow chances for customers to make money. There is what's called "house edge" that ensures in the long run, the casino will make a profit. This doesn't mean that you'll be cheated out of games, it just means that the casino can have a slightly better probability of winning.
The term 'the house always wins' is a well-known term in the gambling industry which may alert some gamblers and raise questions as to whether or not the money is in it for them.
Most casinos are regulated by government agencies ensuring that they operate lawfully and fairly. As long as the casino follows its own rules and regulations of the game then they are not considered to be rigged. However, if a casino does not follow the rules and regulations on their own games, this would cause concerns and ultimately lead to the casino having their licence revoked.
Not all casinos are legal
It is not advised to gamble outside of a licensed and regulated casino. Not all casinos that you find are legal and it is advised before depositing any funds, you ensure it is licensed by one of the reputable commissions, such as the United Kingdom Gambling Commission, Curacao, Malta Gaming Authority, etc. A perfect example of an excellent online casino that is licensed and regulated is the online casino 9winz, one of the most popular casinos in India.
Return to player
RTP, short for return-to-player, is a term used in slot games or table games. It is a percentage of the amount of money that will be given back to the player in the long run. For example, to attract customers, you may see 99% payback advertised on slot machines. To simplify this, if you put $100 into a game of this nature, you would come away with $99. Of course, this is not always the case, there will be winners who make a profit and potentially losers who lose it all.
Random number generators
RNG, short for random number generators, is a complex software used to generate sequences of random numbers that are unpredictable so that every player has an equal chance of winning or losing. As a result, every spin of a slot or pick of a card is a one-off that does not influence future games. It is important to note that the RNG software is entirely separate from the online casino's web servers, which makes it impossible for the casino to control game outcomes.
How can you tell if a casino is rigged?
After acknowledging that casinos are designed to profit from players without necessarily being rigged, we will now point out some warning signs to watch out for that may indicate that a casino is rigged.
Things to look out for at brick and mortar casinos:
There are limits on how much and when you are able to cash out.
Depending on how you're playing, betting limits can be changed during the game.
Some dealers at 'dodgy' casinos will tamper with the playing cards in order to make you lose.
You can be removed from a land casino if you win too much. In some instances you can be permanently banned.
Things to look out for in online casinos:
There are limits on how much and when you are able to cash out.
Depending on how you're playing, betting limits can be changed during the game.
Some online casinos fail to fulfill their promotions or offers.
Your account or cash out can be frozen without any explanation.
To summarise
Casinos are designed to make a profit, however, this does not mean they are rigged. In actual fact, they don't need to be rigged as the chances of them winning are high. We advise that any online casino you register with must be regulated and licensed. If it isn't, then stay well away from it.
Always remember that there are risks when playing casino games, therefore, it is essential to play for entertainment purposes only. Please gamble responsibly.