Even though betting on esports isn't quite as big as betting on traditional sports yet, the market is growing all the time. It aspires to become a prominent player in the worldwide betting industry.

There are occasions when we here at ReadyBetGo want to bring you interesting facts about the gambling industry When something catches our eye, we will publish it for your enjoyment.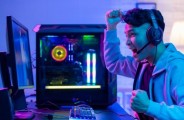 The professional esports scene publishes new titles every other year, and some of these catch the attention of players and bettors.
There are now active competitive scenes for many eSports games, and you can bet on them online. Players can even find CS:GO sites at CSGOStake.com where they can sign up to bet on some of these competitions for real money. This article highlights the top five most popular esports to bet on.
Counter-Strike: Global Offensive
This popular esport is a first-person shooter sport where two teams face off against one another on various maps. It is definitely a well-known name in the world of esports betting and a respected franchise around the world. With its round-based gameplay, Counter-Strike provides exciting, fast-paced, and entertaining action to watch.
Because CS:GO is so popular, it won't be hard to find esports betting sites that have markets for it. Even though it's simple to understand, you might want to start by reading through a few betting tutorials to familiarize yourself with the game's betting markets.
League of Legends
This is one of the most popular online games in the world. In actuality, it is essentially the game that launched the entire esports industry. Riot Games made it, and the game has become a worldwide phenomenon. It is a multiplayer online battle arena. League of Legends has an esports culture that is fiercely competitive and extends from Asia to Europe to South America and beyond.
It has more than 150 million active players and takes pride in being one of the three most popular esports gambling games
Dota 2
Due to its international tournaments, which award over $30 million in prize money, Dota 2 is recognized as the most lucrative esports game in the world. Dota 2 is a game made by Valve. It has two teams that protect and attack important infrastructure. Teams, players, characters, objects, and more are used.
It takes a lot to be a smart and strategic gambler in Dota 2. You'll need to learn about the best teams, keep track of changes to their rosters, and do research on past, present, and possible meta changes. It opens the door for enormous winnings while being challenging. Like craps and any other casino game or sport, you can quickly place a bet on Valve's masterpiece Dota 2 on popular gambling sites.
FIFA
On a global level, our first three on this list are more well-known esports than FIFA. However, this game of virtual soccer is gradually making a name for itself in this ever-competitive industry. FIFA is different from other eSports games because betting on it is like betting on any football game.
Each team is controlled by a single player, with games lasting less than 90 minutes. FIFA may be one of the simplest eSports games to bet on for individuals who want to attempt this form of betting. However, it's best to have prior experience with how traditional sports betting works.
Fortnite
Over the past ten years, the battle royale genre has seen a phenomenal rise in popularity. A large number of players engage in battle on a single map in all of the games in this genre until only one team or one player is left standing.
The success of the genre can be attributed in large part to the fact that almost all of these games are cross-platform and cost nothing to play. Each game is free, which means that tens of millions of gamers can play it, and you can play with people on any platform, like PlayStation, Xbox, PC, and even mobile phones sometimes. This resulted in a perfect esports ecosystem.
Conclusion
Esports come in different variants, and that keeps things fun and exciting. These titles are the most popular ones for reasons like their features, and gameplay. Overall, you can consider them an upgrade to basic video gaming, and the chance to record huge wins from associated competitions is an added advantage.