Over the past few years, eSports have seen unprecedented growth. And shortly after the emergence of video games in which players compete against each other, the prospects of betting on who will emerge

There are occasions when we here at ReadyBetGo want to bring you interesting facts about the gambling industry When something catches our eye, we will publish it for your enjoyment.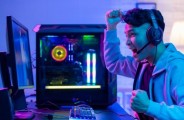 as the winner started to loom. Fast forward to today, eSports betting has gained a massive following among video game lovers and online gambling enthusiasts to become one of the fastest-growing niches in the betting industry. According to a 2019 report published by Market Insight Reports, the global eSports Betting market size is projected to see a CAGR of 13.1% annually between 2020 and 2025 to reach USD 13.05 billion.
But despite this growing popularity most bookies still don't completely understand the gist of eSports betting. This is largely because eSports betting is far from a game of luck. It takes patience, wit, and fine-tuned betting strategy if you're to succeed in leveraging the opportunities on offer.
In this guide, we will be revealing eSports betting tips and strategies to help you boost your bankroll.
But first…
The Legality of eSports Betting
For several years now, eSports betting has largely been operating in a legal grey area. In the US and European countries, it is outlawed largely due to the phrase 'sports' in its title. Some argue that eSports isn't a sport, while others argue it is a game, and hence, it should be regulated by gambling laws rather than sports gambling laws. However, there are other countries like Germany, Sweden, and Italy, where betting on eSports is perfectly legal.
Know Your eSports
Before you can begin your eSports betting adventure, you need to familiarize yourself with all the major titles in eSports, as well as the different genres in the niche including MOBAs (multiplayer online battle) and FPS (first-person shooters).
But that's not all! You need to follow all the eSports scenes from around the world including events, rivalries, head-to-head matches, recent transfers, etc. Simply put, if you're to successfully navigate through the murky terrain of online eSports betting, you need to arm yourself with knowledge.
Choose the Right Bookmaker
Finding the right eSports betting site is the first step towards succeeding in your eSports betting adventure. You may have the best eSports betting strategy but all your efforts will disintegrate to zero if you are playing at the wrong betting site. After all, not all platforms are created equal. For this reason, you need to spend some ample time shopping for the best site, as well as the best odds if you're to get the most out of your bets.
Still, eSports betting is a relatively new industry, meaning bookmakers are slowly and cautiously adopting new technologies. And considering there are sports like baseball and football, which have been around forever, there are plenty of opportunities yet to be discovered, meaning some bookmakers aren't simply equipped to handle certain matches or games.
Research Is Key
The biggest mistake you can ever make in eSports betting is to blindly jump into the "deep end" of the pool without researching. As such, you need to research everything including the teams, game results, rivalries, history of the tournaments, etc. The more knowledgeable you are, the more chances you have of making an informed decision in terms of placing your wagers. And that can make all the difference between having a full nest and not being so fortunate.
Scour the internet, indulge in as many games as you can on Twitch and YouTube, and pour over websites that offer detailed information on all in-game tactics. By having this valuable information filed away in your brain, you will be able to deploy it when making your next bet improving your chances of success.
Needless to say, different eSports games respond differently to eSports betting strategies. For this reason, you need to profile and customize all the collected information to find a favorite game and make the best possible wager.
Make Smaller Bets With Bigger Odds
Another great eSports betting strategy that you should adopt is to try and limit your losses and increase your chances of winnings is to make smaller bets on big accumulator bets. However, you need to do this after growing your bankroll because accumulator odds are relatively large and could leave a significant dent on your budget.
The more legs that the accumulator bet has the bigger the odds. However, crucially, your returns will also be bigger so you need to choose your options carefully.
Fortunately, we have prepared a detailed guide to making Dota 2, LoL, and CSGO bets.
Leverage Odds Comparison Tables
Just like any other bet, you need to ensure that you're getting the best odds. As such, you need to check and study the odds comparison tables provided by the bookmakers to establish the games with the highest payouts. You will be surprised how much the odd margins on eSports markets vary from one bookmaker to the other.
Use Cash Out
Another eSports betting strategy that is increasingly gaining popularity is the use of cash out. This option is relatively new to eSports games, and it allows you to collect your bet early before the game comes to a close.
Here is how it works:
Assuming you wager on Team A to beat Team B at odds of 3.00, and your favorite team takes an early lead. Their current in-play odds will rise, but you have the option to cash out early before the tide turns on you. As a result, you gain a profit before the game winds, which is a win-win if your team wins or loses. Ultimately, the bigger the lead and how far the game has been played, the bigger the potential profit you glean from cashing out in advance.
Learn About Bankroll Management
Basically, a "bankroll" is is the amount of money that you've set aside for esports betting purposes. Conceptualizing and managing your bankroll will not only help you to set reasonable betting limits and avoid dipping into basic need money for gambling.
As a good bettor, you should focus on consistently growing your bankroll over time, and although you won't be winning every time, you need to keep measuring your success in terms of monthly, quarterly, or even quarterly numbers. Even the best eSports bettor may take a beating for a week or more, but when you take a look at their longer-term results, you'll discover a consistent pattern of money-making.
The key to bankroll management entails knowing how much you need to bet and when. And this is largely tied to knowing the formats, schedules, and timetables of various esports tournaments, which is where a huge majority of the action lies.
Take Advantage of The Bonuses and Promotions
Just like their regular online gambling sites eSports betting sites do offer bonuses to new players, as well as reward exsiting ones with ongoing promotions. As an eSports bettor, you need to take advantage of these bonuses as they allow you to grow your bankroll without risking your investment.
Important to note, however, is that they come with different terms and conditions that need to be fulfilled before cashing out your winnings. For this reason, you need to read and understand the terms and conditions of every offer before opting in to avoid losing out on your winnings. Still, you may be required to use a bonus code issued by the gambling site itself or from third-party affiliates.
Concluding Remarks
If you are a new gambler, eSports betting may seem like too much of a bite to take and swallow. However, the entire learning process is fun, and the learning curve isn't as steep as you might think. And with the strategies for eSports betting outlined in our article above, you shouldn't have a problem kickstarting your eSports betting adventure.