Esports has certainly become the next big thing and now many games are seeing a crossover between traditional sporting fans with the existing esports fans, but if you're just getting into a scene

There are occasions when we here at ReadyBetGo want to bring you interesting facts about the gambling industry When something catches our eye, we will publish it for your enjoyment.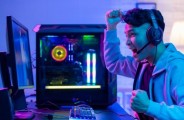 it may be difficult to really know what's going on – lots of movement, big flashy plays, a lot of talking – but who's winning? And how can you make sure you are placing the right bets on something you are not entirely sure of? Here are some tips for getting started at Esports Betting Site.
Team and player resources – Much like every other sport, there are a huge number of resources out there for the history and stats of players and teams – you can check what their win percentage is, how often they've played together as a team, whether or not there has been recent movement in the team – all key indicators for knowing whether or not a team will perform well. Many esports fans are passionate and will simply bet on the team or the player they're a fan of, but there's a lot of movement within the top teams and things may not always be so cut and dry.
Understand the basics… – Whilst you may already know the goal of the game you're watching, there are other 'basics' to consider – what is the metagame of the esports title in question? Is the team you're betting on following the traditional style of gameplay or trying to innovate something new? There are a lot of variables in different games, and to fully know whether or not a team is worth putting your money on its worth understanding whether or not they'll follow the fundamentals or if you're just watching them try something different.
…And the nuance will follow – Once you've got the basics down, you'll start to see many of the nuances that make up the various games. With traditional sporting events it might take a little time to better understand set plays, formation or strategy adjustments, or player shifts – and the same is true within esports too. There's a lot of nuance at the professional level that can drastically impact the way the game is played and the result that comes from the game, whether you learn these simply from watching the huge existing library or if you get into game and try them out yourself, but the better understanding and appreciation of what's happening at certain points will certainly come with time.
There's a final point which is a little broader – and that's choosing your game. With each title, there is a very large and in-depth scene to follow so it may be hard to keep track of multiple different titles at the same time, particularly if you're interested in all of the regions too – but with similarities in genres such as League of Legends vs DoTA2 you'll likely find one to fit your style, and don't be afraid to check out the other regions too as you'll often find round the clock games every day to fill out your calendar.