Covid-19 and Lockdown Restrictions really took the whole world by storm and affected virtually everyone and every business in negativity. It does continue to cause some restrictions across the world,

There are occasions when we here at ReadyBetGo want to bring you interesting facts about the gambling industry When something catches our eye, we will publish it for your enjoyment.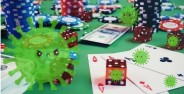 with many still working from home as business' aren't sure whether they can guarantee the safety of their employees in their offices. According to the Gambling Commission, nationwide consumers spent more money online on entertainment (17% of gamblers compared to 13% of all adults) and also consumed more on-demand entertainment (48% of gamblers compared to 40% of all adults.)
In the gambling and betting world, consumer trends have moulded to what has been available on the market. During strong lockdown, live sporting events weren't available to the punters, so we saw a large flow of usual betters move over to online casinos in which they have been able to get their fix from. According to 888 Holdings, they say that "they have been affected by the postponement or cancellation of events such as the Premier League and Grand National, cutting income from sports betting, which accounts for about 16% of its revenues.
Such sites that have seen such a large increase in numbers during the pandemic has been casinosnotongamstop.org. They have specifically seen their numbers go up due to the fact they offer a unique service of unrestrained access with a vast variety of casinos, slots and card tables along with large deposit matches and fantastic sign up offers.
Bookies were really starting to struggle due to the lack of sporting events, however once that started up again in the form sports behind closed doors to enable leagues to be finished, bookies seen a their usual levels of traffic reflowing onto their site and into the in-play markets – further showing that consumer trends will follow where the market allows during lockdown.
Another area in which had a surge in punters was the E-Sports universe in in which is basically untouchable to any global pandemic due to it being able to be played in the comfort of your own home.
Overall with all the above statements, the gambling and betting world has been affected in both positive and negative ways. Consumers of this sort of service will always find a way in which they can secure their entertainment and through lockdown this certainly was through the online casino route.