Online sport betting is a fun way to make some cash while enjoying your favourite sports. Just like any betting however, there are some common pitfalls that first time bettors should keep an eye out

There are occasions when we here at ReadyBetGo want to bring you interesting facts about the gambling industry When something catches our eye, we will publish it for your enjoyment.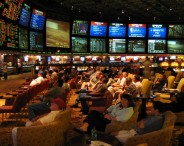 for. Avoiding these common mistakes is the best way to start off your sports betting in a positive way.
Sports Betting Is Not A Get Rich System
If you are just looking to have some fun bets online on your favourite teams, go right ahead. Sports betting should be about fun first and foremost and you should always wager responsibly. As any serious sports bettor will tell you however, smaller regular bets can be more rewarding in the long run. Long shot bets that make you an instant millionaire in the same way that the lottery will is pretty much unheard of. You will rarely encounter a life changing jackpot win in sports betting unless you have the capital to make high risk bets with large sums of cash.
Manage Your Money
It is very tempting to make some impulsive wagers on your favourite teams when indulging in the sports betting NZ has to offer, or if you have a good feeling about an outsider. This however is a classic betting mistake. To become a serious sports bettor the ideal is to think of your betting returns in the long run. Using a flat bet system to only wager a certain percentage of your bankroll will not only sustain more regular wins, but it will allow you to keep wagering the whole month when combined with a fixed betting strategy.
Do Not Bet When You Do Not Know
Online sport betting offers too many fun sports to place real money wagers on. It won't make sense or make sports betting fun if you just stick to one sport. What you should do however is take some time to read up on unfamiliar sports and do some research so that you can place wagers with more confidence.
Betting on a new sport is a lot of fun and if you have an initial positive experience, you just may find a new favourite sport. However do not just toss your money away on a whim. There are many online resources that can provide a few helpful pointers.
Remember A Bonus Is Not Free
Bonus offers are great temptation, especially in the current sports book market where there is so much competition. Sites aggressively try and gain new members with fantastic sounding bonuses. Just remember that these bonuses can come at a price. There are certain wager requirements to meet before you can fully utilise your sports betting account so read the fine print of these bonuses and only take advantage of them if they are realistically achievable for you.
Research Sports Betting Sites
No sports bettor is ever limited to a single account. You may be able to single out certain sites for specific benefits but no two sites will have the exact same odds on the same sports. Shop around and make notes so that you can join at least two sites. This way you will always be able to pick the most competitive odds for yourself.