The only legal forms of gambling in Thailand are the national lottery and horse racing in Bangkok. The national lottery is very popular in Thailand, and there is a whole other version of it available

There are occasions when we here at ReadyBetGo want to bring you interesting facts about the gambling industry When something catches our eye, we will publish it for your enjoyment.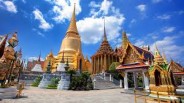 on the black market. Many gamblers prefer the black market version of the national lottery because apparently, it's more interesting as compared to the legitimate one.
The thing about Thailand's gambling scene is, while most forms of gambling are illegal, this has not stopped gamblers from finding a way to indulge. The gambling laws are so comprehensive that even playing cards has been banned. Yet the gambling industry is still booming.
It is hard to believe that 70% of a population gambles in the same country where owning a pack of cards is illegal. In Thailand, almost every village has an underground casino and a bookie. According to the gambling laws, if found, the penalties on the books are stiff, and the gamblers risk imprisonment.
In reality, the gambling laws are not as scary as they are in writing. Most bookies pay a small fine to the police, and the issue is forgotten. In the villages, gambling operators set up brick and mortar casinos in home setups for disguise. In the cities, there's a little more sophistication to make the game more thrilling. Gamblers get invites to gambling spots in basements of luxury apartment blocks where they can access games offered in main-stream casinos.
A Short Trip over the Border
Many Thailand citizens find themselves travelling to neighboring countries for the true casino experience. They prefer casinos that have been set up between borders in no-man's land that don't get taxed.
The downside, however, is that these establishments are unregulated, and this means players have no regulatory body to seek help from. These casinos encourage an Omnichannel gaming format where players can place wagers online and collect their winnings in person.
What Games are Available in Online Casinos in Thailand?
If you're looking for a safer gambling method, you're in luck. Asiancasinocentral has listed the top Thai online casinos. Besides, there is more to these casinos than playing online Slots. Thailand gamblers have a wide variety of casino games to choose from.
Many Thailand casinos even spice things up with tournaments to give gamblers that adrenaline rush they're always seeking.
Here are the main game options you'll have access to in Thailand casinos;
Online Slots
The reason why so many Thailand locals join online casinos is because they want to try their luck in winning a jackpot prize. Online Slots is popular because of the big money prizes players have won over the years.
Thailand online casinos have impressive Slot games with fair wagering requirements, so you're bound to find something that suits you.
Live Casino
Since gambling is illegal in Thailand, locals cannot experience gaming in a brick and mortar establishment. However, live casinos come pretty close because gamblers get to play in real-time. If you're a fan of classic casino games, you'll appreciate the surreal experience live casinos will accord you.
Roulette
Roulette is a globally recognized game even among people who have never played it. It is a great game for beginners because it has easy to follow rules. This is a game of luck, which means beginners and pros have the same chances of winning. Thailand casinos have a computer-generated, as well as a live version of this game.
Blackjack
If you prefer card games, blackjack is an excellent option. This game allows you to showcase your skills and exercise your brain. It is a sociable online casino game that gives gamblers the opportunities to learn from their opponents. Since the aim is to try and beat the dealer's hand, the game offers a welcome challenge.
Poker
Lastly, you can access poker, which is one of the most interactive casino games. As a new poker player, it might seem impossible to grasp. However, the more you play, the better you get at it. Poker is a great game to play among friends because it's entertaining and challenging.
The beauty of poker is that each time you play, you learn something new. Don't shy away from playing with experts because this is how you better your skill set.
Conclusion
Thailand might have banned gambling but gamblers still find a way to indulge. Aside from playing in neighboring countries, Thailand gamblers can also access their favorite games online. The variety of games on Thailand online casinos ensures that gamblers find what suits them.