Club USA Casino Blackjack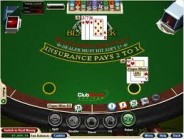 Club USA Casino Blackjack is the best bet for practicing blackjack basic strategy without stress and distractions. The game comes in both free play and real money modes and you can play up to three hands on your own table. The rules are favorable and with a house edge of only 0.71%, better than many casinos. The table minimum is $1 per hand and the maximum is $500.
There's a lot to remember when it comes to playing casino games, the finer points of the rules, what suit beats what, when you can place a bet and, if you're playing in a land casino, the

There are occasions when we here at ReadyBetGo want to bring you interesting facts about the gambling industry When something catches our eye, we will publish it for your enjoyment. hand signals and proper etiquette surrounding them. It can be hard to remember when you first get started, particularly with games like Blackjack, but once you get the hang of it these gestures are sure to make your time in the casino that much more enjoyable.

Starting with the simplest- Roulette. It's expected that you'll place the bet on the relevant number yourself but if you can't reach, the dealer can do it for you. Once the dealer waves his hands horizontally across you can't place any more bets and it's important you keep your hands off the table until all the losing bets have been collected.

Craps is a little more practically minded. While there's a lot of etiquette attached to the game, as far as your hands go the most important one is that you keep your hands off the table when the dice are being rolled and that you throw them with one hand. This is pretty self-explanatory, but it's to make sure nobody cheats and tries to tamper with the result. If you don't want to be the shooter for this round, you can pass to the player to your right though it's worth remembering there's other conventions and etiquette associated with this kind of gesture.

When it comes to card games, things are a little more complicated. Poker is still relatively simple with the bulk of the signals being done through how many chips you move into the middle of the table. If you're seeing someone else's raise, you slide the same number of chips into the pile that forms the pot and if you want to raise further you slide a second pile in afterwards to show how much you intend to raise by. When everyone's done all the betting they want to do, you tap the table to indicate you're checking and leave it at that. If you decide to fold then instead of chips, you put your cards in the middle of the table instead. Make sure you keep them face down though, it 's important that the other players don't know what cards you had.

Unlike poker, Blackjack has a fairly complicated system of hand signals- made worse by the fact the gestures are dependent on what kind of game you're playing. If you're playing with the cards facing down then you should scrape a finger across the table to show you want to hit (get another card) and when you're ready you slide your cards underneath your chips. If, however, the cards are face up then instead of scraping the table you tap it with your hand to indicate you want another card.

We've got a handy infographic, seen below, that helps make things a little clearer.