Are you searching for the best casino sites available? There's certainly thousands to choose from, which means it's going to take you a considerable time in your quest to pick out 'the'

There are occasions when we here at ReadyBetGo want to bring you interesting facts about the gambling industry When something catches our eye, we will publish it for your enjoyment.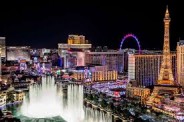 very best available. But fear not, we have compiled this handy guide, to help you find the very best casino sites in 2018, without working up a sweat – just by knowing what to look out for in 2018.
Tech
First things first, technology, it keeps changing and it is taking the online gambling industry by storm. There have been plenty of innovations recently which has paved way for the next generation of online gaming. Finally, revenue which has been gleaned from mobile gaming has surpassed the revenue from PC and console gaming for the first time, meaning more and more online casinos and software giants are investing in HTML5 technology. The future of online gaming is going to get better and better, thanks to smartphone and tablets being produced with more sophisticated graphics and designs.
VR or virtual reality is advancing like never before, thanks to popular VR headsets like the PlayStation VR and Samsung Gear VR bringing players closer to the gaming action like never before. VR allows players to literally insert themselves into the game and become one of the characters – but there are a few minor issues, such as lower quality graphics compared to what punters can experience through a mobile, desktop or tablet. More and more casinos are looking to invest in this technology, with one open already. As long as you have an Oculus Rift headset, you can indulge in a gaming experience like no other, at the world's first ever virtual reality casino – Slots Million.
What about Augmented Reality? Whilst VR inserts you into the action, AR brings the experience to you. Thanks to wearable AR technology, bringing the casino floor into your own home has never been easier. Now, AR games are certainly still a way off, but the concept is there and allows the average casino player to bring friendly dealers and thrilling games into their own home.
Games of skill
Games that are already playable in Atlantic City are getting closer to becoming a huge hit across the globe. Players can dive into the action and thrash it out, instead of pressing spin, to win big cash through more than just luck. GameCo are the creators of the Video Gambling Machine (VGM) and Danger Arena is the first skill-based shooter game to be released, allowing punters to earn money by killing as many bots as possible, in a 45 second period. Danger Arena is similar to video games Call of Duty and Halo, so if you're a good shooter, it may be worth giving it a go to win huge cash rewards.
Read the rules
There are new gambling laws in effect, which means that online casinos must treat customers fairer. This also means that the new stricter rules will allow software providers to adapts without losing a grip on creativity. There are currently only a handful of online casinos that offer real cash rewards; PlayOJO, Bgo Casino and Power Spins. These companies allow you to claim promotions without having to meet hefty wagering requirements, so whatever you win, you keep 100% of. Thanks to the new laws, you will see more and more online casinos offering a fairer system, where you won't have to spend thousands just to withdraw your winnings.
Cryptocurrency
There are many cryptocurrencies on the market and the biggest; Bitcoin has hit the headlines more than once recently, with its dropping share values before seeing it booming again. Aside from Bitcoin, there are many more cryptocurrencies available; Dash, Ripple, Dogecoin and Ethereum are just a few to mention. With the list of casinos accepting Bitcoin increasing, the this can only mean one thing – the future looks bright for Bitcoin casinos. Everyone is talking about them and lots of people want to invest in them – especially online casinos. You'll find a handful of casinos accepting Bitcoin and other cryptocurrencies, but there will be an influx in them in 2018, what with the future of cryptocurrency looking so bright.
New themes
A new year, brings new things – not just healthier eating fads. In 2018, casinos will be adapting to the latest trends, such as social games. Whatever the trends may be, companies will be analysing the facts and figures to see if they can bring a thrilling game, with big winning opportunities. Last year, due to the popularity of the emoji, NetEnt produced an online slot machine to make us smile – the Emoji Planet Video Slot. Packed full of smiling faces, stinky poo and unicorns, the Emoji Planet Video Slot has been a huge success. No matter what the trends of 2018 may be, there will be a company ready to capitalise on it, so we could see slots based on foods, fashion or maybe even Brexit!