Long-time bettors in the United States might notice more and more sportsbooks are being bundled with casino offerings. The partnerships are a new development since the US repealed a federal ban on

There are occasions when we here at ReadyBetGo want to bring you interesting facts about the gambling industry When something catches our eye, we will publish it for your enjoyment.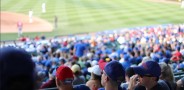 sports betting back in 2018.
Since then, established brands around the world have been scrambling to set up shop in eligible US states. At the same time, home-grown brands have also been attempting to make a name as the industry expands. Most notably, New York State launched its online betting market in early January to huge success, raking in millions in revenue.
So, how exactly do casino-sportsbooks crossovers work in the US? Though completely legal, not many brands have launched successful sites that cater to punters and igamers alike. However, the trend is growing. Here's what you need to know.
Companies Can Offer Both
In the US, casinos, sportsbooks, and poker are treated as separate gambling entities. An online casino can launch branches that can offer poker and odds on sports—but they'll need separate licensing for each. Given established brands will handle licensing in countries worldwide, acquiring a sportsbook license alongside their casino (or vice versa) isn't out of the picture for top companies.
For certain states, top casinos and sportsbooks are bundled into a single package. For example, the best online casino in PA includes a sportsbook partner, which makes switching from gaming to betting as simple as clicking a few buttons. The brand, Unibet, is able to offer its users dual promotions that work for their sportsbook and casino.
Pennsylvania makes it easy for companies to set up this type of scheme—though not all states treat casinos and sportsbooks with the same open-armed mentality. New York's newly launched sportsbooks will be taxed at a rate of 51% compared to PA's 36%, which might not encourage many companies to compete for its large demographic.
A User-First Model
Sportsbooks and casinos are partnering up, or launching new platforms, based on a user-first model. This means companies are looking to prioritize what gamers and punters want from virtual platforms. This is particularly relevant for brick-and-mortar casinos, which are widely in decline in the US.
One way for brick-and-mortar casinos to survive is to launch online branches. Keeping with the Unibet example above, the sportsbook has an official partner in Mohegan Sun, a physical casino in the state. Both brands benefit from the crossover by boosting visibility while also catering to what more and more gamers want: direct access to a sportsbook.
Once again, companies can target sports fans who might want to try out unique gaming opportunities. Unibet recently rolled out an NFL-themed Eagles blackjack game, which means punters who have never played the card game before might check it out by switching over to Unibet's casino page.
The same goes for casino gamers who have never wagered on a moneyline or an over/under. If a person games with a single company and becomes a loyal customer, they're more likely to try out a new experience that offers the same degree of excitement as slots or roulette.
A New Customer Base
This last point hints that the future of casino-sportsbooks crossovers is only in its infancy. In other words, there's a huge and untapped demographic of casino gamers and punters that are likely interested in trying out the other for the first time—and a brand that has established itself as a quality platform in both will have first dibs on newcomers.
According to Statista, in 2020 the largest demographic for sports betting was aged between 30-44. Meanwhile, the majority of online casino gamers are aged between 21 and 45 years old. There's a huge portion of the online gaming community that's less engaged with sportsbooks, which means they'll likely have access to exclusive betting opportunities if their chosen company launches an online sportsbook.
This is particularly true for the Canadian betting market, which will launch in Ontario in April. With other provinces expected to join, casino-sportsbook crossovers will soon be popular in the Great White North, too.