While the public's opinion of advertising ranges from appreciation to annoyance, there's no denying that at least some of the marketing campaigns pumped out daily serve their purpose. In

There are occasions when we here at ReadyBetGo want to bring you interesting facts about the gambling industry When something catches our eye, we will publish it for your enjoyment.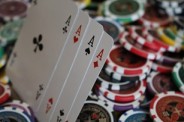 fact, several of them may well be imprinted on our collective brains forever. Who can ever forget Hovis' Boy on the Bike (1973), Volkwagon's Singing in the Rain (2005), or the rehydrated potato-loving robots that represented Smash some fifty years ago?
Long-lasting Relationships
The mechanics by which advertising works on our brains are arguably made of as much magic as they are hard science. After all, some of the most well-designed campaigns and products have fallen flat on their faces almost immediately after their debut, Heinz's mutant purple ketchup serving as a good example. One thing is consistent in many successful advertisements, though – the role of

For better or worse, humans are an emotional bunch so leveraging our feelings to attract customers has become an almost guaranteed way to get into our heads. In the casino industry, creating long-lasting relationships with consumers is especially important, as they produce greater value for players and the casino over a lifetime. At its most basic, this is achieved with things like welcome and deposit bonuses.
The trick is to make visitors feel special. Taken to its logical extreme, this need is represented by VIP schemes, which can include a raft of luxury perks, from limo rides to stays in high-class hotels. Invitations to tournaments, casino events, or even sporting occasions are commons treats too. This kind of service is usually reserved for the most loyal customers of all, emphasising the importance of creating enduring relationships with gamers.
Elements of Gamification
Gifts and freebies also have their role to play in stirring people's emotions. However, they're more effective at opening doors than shoving customers through them. The SuperSeven Casino offers free-play modes of all its slots games here, for example, which give customers an introduction to the overall experience while alleviating any pressure to win or spend money on an unfamiliar product.
While it's true that almost no thought at all can go into gifts, as long as the offering seems interesting or valuable, that doesn't detract from the fact that freebies do work. The Atlantic notes that offering presents to consumers can increase sales by up to 2,000% but an important balance has to be struck. Whether it's video games or ebooks, consumers like to earn things, even if they have to do it by spending money.
That latter point is where elements of gamification come in. Although not a common tactic, leaderboards and achievement lists that reward player effort (or spending) can increase customer activity as they give clear goals to be fulfilled. It's no secret that more skill-based games are creeping into the casino space so building the player experience on a similar concept is an easy way to attract younger players in particular.
Loyalty is the casino industry's golden egg, and forging deep, meaningful relationships with customers is central to customer retention in the space.