Ever since gambling was introduced, there have been people trying to cheat the casinos and win more money. Over the years, many have been quite successful in doing so, and cheating is still problematic

There are occasions when we here at ReadyBetGo want to bring you interesting facts about the gambling industry When something catches our eye, we will publish it for your enjoyment.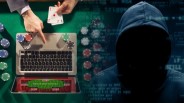 at land casinos. It can also occur at online casinos, though it is less likely to occur through the use of software and random number generators.
Cheating at a casino is a huge risk but can also result in large gains. Some players come up with innovative ways to cheat at casinos just to get their name out there for notoriety! Others actually do it to gain huge profits and outsmart the casino. With so much money at stake, players will do just about anything to boost their chances of winning, even if that results in illegal activities.
Over the years, there have been some notorious cheaters who have earned huge amounts from casinos and have become famous for doing so. Scandals are a fascinating thing for society, and cheating scandals are what make some people engage in illegal activities when they play at casino venues. Here, we take a closer look at some of the most famous cheaters of all time and how they have taken casinos for thousands.
Tommy Glenn Carmichael– Slot Cheater
When it comes to cheating at casino games, one of the most notable names in the world is Tommy Glenn Carmichael. In the 1980s, Carmichael started gaining attention for cheating various casinos in Las Vegas. He was a slot player that had developed a device that was used by inserting it into slots on slot machines and interfering with the results on spinning reels. The result was amazing as he managed to enjoy more wins than he should have!
The device only worked for a short amount of time as the 1980s was a time for technological enhancements to casino games. Large casinos in Vegas started to use new games that were controlled by computers, and the device no longer worked. However, this was only true at major casinos that were located on the Vegas strip. Smaller gambling establishments were not yet updating their machines, so Carmichael started to play at these venues frequently to continue cheating casinos out of thousands.
He robbed these smaller casinos for a few years until he was finally caught and arrested. Carmichael was sentenced to 5 years in prison. After his sentence was served, Carmichael saw the changes in slot machines and noticed that all venues had switched over to new games. So he purchased one of these and spent time figuring out how to cheat these new machines.
Carmichael was successful once again as he created a special light device that would shine into a coin slot. This triggered a sensor on the game and would provide a winning result. Not only did he use the device to win tons of cash, but he also sold a few to other cheaters. It wasn't until the later 1990s that he was once again caught and sentenced to prison. This resulted in a huge change in Carmichael's career as he later took a job working with casinos to help prevent cheating.
Dennis Nikrasch
This gambler is known as the greatest player to have ever cheated slot games. He operated a number of rings engaged in cheating Las Vegas casinos and venues in Atlantic City. He was such a popular cheater that the Gaming Control Board in Nevada said he was a threat to the entire industry! Nikrasch started working in Chicago, where he was a locksmith. He mastered this trade and was able to break into any type of lock with no problem. This set him on a path to cheating at casinos and also paved the way for a few stints in prison.
His amazing locksmith skills helped him cheat many machines in Vegas. At the time, slots were mechanical, and he was able to break into the machines and manipulate them so they would pay jackpots. He did this for many years and collected millions from various casinos until he was arrested in 1968 and sentenced to 5 years behind bars.
When he was released, slot games were a bit different. Electronic devices replaced the mechanical elements, and games were thought to be tamper-proof. Nikrasch set out to develop another way in which he could alter machines without leaving any evidence behind. He started to use high-tech tools and used his team members to cover him and protect him from cameras that were now in use all over casino floors. His long run of altering slot games came to an end in 1998 when he was arrested after making millions. After his release in 2004, he was unable to continue cheating his way to fame and fortune as he was banned from land casinos for the rest of his life, which came to an end in 2010 when he passed away.
Richard Marcus – Professional Cheater
When it comes to some of the most successful cheaters in the gambling world, Richard Marcus is at the top of the list. This gambler and former croupier claims the title as being the "world's greatest casino cheat." Ever since childhood Marcus enjoyed gambling and would often be found betting nickels with his parents for guessing what color a car would be when it turned the corner.
As Marcus grew older, he believed he had the skills and smarts to beat casinos and cheat them out of thousands. Starting in the 1970s, he visited casinos and, for the next 30 years, earned over $12 million by cheating at the casinos. He retired without ever being caught in the act! Instead, Marcus developed scams that he used while playing blackjack, baccarat, and roulette. They were simple but effective scams, and Marcus was one of the early players to perfect past-posting for roulette and blackjack games.
Marcus used the past-post technique when playing roulette often. He stacked two $5 chips atop a $5000 chip and placed this bet on a column bet on the table. The larger chip was hidden from sight, and the croupier could not call the high bet limit. If he lost, Marcus collected his chips quickly and pocketed the $5000 chip, replacing it with another $5 chip. If the bet won, the casino was responsible for paying the total win on the $5010 bet, despite the wager being over table limits.
Ida Summers – A One-Woman Show
When people think of casino cheaters, they seldom suspect a woman of being able to pull it off. Females are often used as a distraction by male players as they engage in cheating tactics at casino tables. However, Ida Summers was one of the best cheaters of her time. Using her charm to distract dealers, she was able to use her skills at sleight of hand. Starting in the 1960s and running through the 80s, Ida Summers earned thousands a day from various casinos in Las Vegas. She did this by removing and adding cards or entire decks while playing blackjack. She was so good at her skill that she was dubbed the Vegas Vixen.
Summers was best known for a technique she mastered called hand-mucking. This is the process of changing one or two cards in a hand. To make this work, she needed cards that matched those being used by the casino. Of course, she had no problem doing that at all! By stealing decks from casinos or charming dealers into giving her free decks, she was able to find the perfect cards to switch into a game and create top paying hands.
With a full deck of casino cards to work with, Summers simply hid the cards in her sleeve and would pull them out as she needed. These cards were often used when playing blackjack, but she was also known to use the technique when engaging in Caribbean Stud Poker and Texas Hold'em games. After many wining streaks and collecting thousands from the casino tables, an investigation was launched and the FBI was brought in. However, it took many months to gather evidence to prove that Summers was guilty.
She was eventually caught and charged, along with her accomplices. With many charges against her, she faces many years behind bars. However, her charm came to her rescue once again, and she managed to flirt her way out of sentencing, only ending up with probation. Her accomplices were not so lucky and served jail time.
Louis Colavecchio – Expert Counterfeiter
In the traditional sense of cheating, one would not label Louis as a casino cheater. He never manipulated any games to alter payouts or provide unfair advantages. He did not use mechanical devices or hide cards when playing at the tables. His crimes against casinos were much less detectable as he was a master counterfeiter. Louis mastered the art of creating the perfect slot machine coins that went undetected, allowing him to collect thousands in payouts over the years.
By using special equipment, he was able to create coins that perfectly matched those that were being used at casinos. Even the cashiers could not detect any differences. He is known to be the first person to ever perfectly recreate slot coins that even the machine's software could not detect. A son of an immigrant businessman who opened a machine manufacturing business, Louis wanted to follow the steps of his father. He attended and graduated college and opened a jewelry store in Rhode Island. Years later, a burglary took place, ultimately destroying the business. It was during this time that Louis began his counterfeiting activities.
After receiving the insurance money, he started a new jewelry business and started taking trips to Atlantic City. The store soon became a front where Louis spent time counterfeiting slot tokens and chips for blackjack and poker tables in Atlantic City casinos. He made over $1 million using fake slot coins before he started being watched by law enforcement. The staff at Caesars Palace discovered a surplus of $10 coins during inventory and reported it to the NK Department of Gaming Enforcement. Other casinos in the area were notified, and this led to the discovery of the counterfeit coins.
Louis visited Caesars again and was watched closely by security teams. He had suspicious habits that attracted attention and after leaving the venue. The machines he played were opened, revealing counterfeit coins in every game he had played. He was arrested in 1988 and received a reduced sentence for telling casinos how the coins had been counterfeited. After 7 years in prison, he was released in 2006 and returned to using counterfeit coins. He was arrested again, and years later, Louis revealed his affiliation with the mafia. The robbery of the first store was set up so he could receive the insurance funds. Louis was also known to be involved in other mafia-related activities like shootings and robberies. In 2013, he was arrested on counts of drug trafficking.
Monique Laurent – Roulette Cheat
Monique Laurent is another woman well known for cheating casinos and winning over $1 million. She was a roulette fan and created a crew that included family members and friends. The amount that was won by playing roulette had absolutely nothing to do with luck! Laurent was using sophisticated electronic devices and got help from a rogue croupier at the Deauville Casino. The scam happened back in 1973 and is still considered to be one of the best cheats of all time.
The croupier and her crew of friends were making use of a special roulette ball that had been altered and was controlled by a radio receiver. The dealer will carefully place the ball into play at the tables, which allowed Laurent to control where it landed with every game that was played. The ball was controlled by a small transmitter that she had hidden in a package of cigarettes. With an amazing accuracy of 90%, she was able to land the ball in one group of six different numbers. Other members of her crew would place wagers and cash in on the huge winnings.
As Laurent and her friends earned thousands at the roulette table, the casino became suspicious but could not figure out what was actually happening. The roulette wheel was checked, and tables were closely monitored by security. Even the dealer was being watched, but security could find nothing wrong. In the meantime, Laurent continues to collect winnings.
It was her beauty and charm that got the crew caught. The casino owner was attracted to Laurent and made some romantic passes. She refused, which made him suspect her of cheating at the table, noticing how much she was winning. She always appeared to be alone when she played and did not bet on all games, only placing an occasional bet here and there. The owner watched her closely as she kept returning to her cigarette package. He then asked for a cigarette, and her cover was blown.
Online Cheaters
While most people associate cheating with table games at land casinos, it is also being done at secure online casinos today. Even sites that use the latest technology and enhanced security measures risk members being able to crack systems and engage in cheating when playing for money online. Here, we take a look at some cases where poker players walked away with thousands, even millions in payouts, from cheating online casino software systems.
Russ Hamilton – Hamilton is best known for being a professional poker player. He won the Main Event in 1994 and was later involved in a scandal at Ultimate Bet online. In the course of just 2 years, Hamilton didn't cheat the casino. Instead, he cheated players, collecting millions. By using a superuser account, he was able to view all hole cards of players and could bet based on that knowledge. While he did admit to cheating, he has not returned any of the money won, but Ultimate Bet took the hit, paying back any players that lost money. Hamilton is believed to have cheated players out of $16 million.
Darren Woods – As a young poker player, Woods has won the World Series of Poker and many online tournaments. However, he is responsible for taking advantage of many players by opening multiple poker accounts. He cheated casinos by using different accounts to access a poker table and win money against other players. These other players were actually Darren himself, just posing as players using separate accounts. He was caught and sentenced to 15 months in a UK jail. He was also ordered to pay $1.5 million in return to players he defrauded or face an additional 6 years.
Scott Tom – It is not often that the software owner will scam their own company, but this is what Scott Tom did. He was one of the main founders of the Absolute Poker online platform and created a backdoor in the software. This allowed different users to view all hands at the table, leading to cheating others out of millions. The site was soon shut down, and a measly fine of $300,000 was imposed on Tom.
Casinos Now Use Enhanced Methods to Stop Cheating
Over the years, casinos have lost millions to these notorious cheaters. While the cost was huge, casinos also learned valuable lessons and used the information to design better security measures to prevent further cheating and scams. The technology used in a land casino versus what is used online is different but works in the same manner. It is used to profile and pinpoint cheaters to catch them early in their game.
Land-based casinos have many security methods that are used. It starts with identifying license plates as players park their cars!! Casinos have a complete list of players they want to keep put and will monitor all activities within the casino as well as on the grounds outside. If anyone is detected outside and is not welcome at the casino, they will be denied entry at the doors. Add security cameras covering every inch of the casino, and cheating has become more difficult than ever. Those who visit a casino are always observed from the very first time they visit. Personal details are stored in a database. Land casinos also employ bar scanners to read all cards in play and verify decks used in games.
There are no physical cards or chips at an online site that can be tampered with, making it a bit harder for players to cheat at these sites. However, many have tried to hack operating systems or even insert bugs in software programs to alter the outcome of online casino games. Most cases of cheating at an online casino come in the form of bonus abuse or account hacking. To prevent this, sites have strict terms and conditions regarding the redemption and use of bonuses. They also make use of the best technology and software to protect player accounts.
You will find that online casinos use encryption software, just like what is used by an online bank. This protects financial information and scrambles details so that the information is always protected when conducting any transaction. When you play at a top American online casino, strict security protocols are in place. Sites will also store all user information on a secure server and use the latest firewalls to add more levels of protection. They also ensure that all games offer fair and honest payouts through the use of random number generators, making it impossible for any player to predict an outcome.
While there are ways for players to cheat online, it is not as common or as easy as at land casinos. Over the years, land venues and online operators have taken many steps to prevent gamblers from engaging in illegal activities and cheating the casino. Unfortunately, there will always be players who are looking for ways to win more and cheat at casinos. With each cheater comes a lesson for an operator, which can further help prevent cheating from occurring again.