The recent death of George Segal, the great actor whose star shined brightly in the 1970s, prompted me to take another look at his films from that time. The first one I could find readily available,

There are occasions when we here at ReadyBetGo want to bring you interesting facts about the gambling industry When something catches our eye, we will publish it for your enjoyment.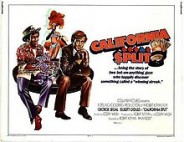 and lucky for me, at no cost, was California Split, filmed in 1974 and directed by the idiosyncratic director Robert Altman. I'd seen the movie when it came out (now you have an idea of how old I am), but time erased any memory of the plot or the characters. I had a vague sense that it took place in smoky card rooms in Southern California (the title helped me there) and on that point I was sorta right. It turns out to be much more than a poker movie and explores through the two lead characters all the aspects of gambling, not just the ways to play, but the whole experience of playing. Some have called it the greatest movie about gambling ever made, and I wouldn't disagree.
The film opens in a card room outside of Los Angeles where it looks like the people at the tables have been there for years bickering and betting. These card rooms were operating in legal grey are at the time and were player banked. The atmosphere was social and a grind for small stakes. Robert Altman makes the scene come alive with his ground-breaking use of sound recording, employing an 8 track recording system to capture bits of conversation from all over the room and the sounds of the chips clicking and clacking. Here we meet our two protagonists, Charlie (Elliot Gould) and Bill (George Segal). Charlie is a born smart-ass hustler, always looking for a game or a bet, while Bill holds down a regular job, but loves the jolt of gambling. The two of them are accused of colluding to cheat by a sore loser who later beats them up and robs them. So begins their journey together.
After the card room experience, their gambling odyssey moves on to a hanging out with a couple of part-time call girls, off to the fights (where they bet on a fight that breaks out in the crowd watching the fight), the dog track, and finally, in hock and at the end of their rope financially, an epic journey to Reno to play poker in a high stake's invitation only game where one of the players is former world champion Amarillo Slim, portraying himself.
The scenes in Reno were filmed at the Mapes Hotel, a fabled gambling casino that was torn down long ago. If you are interested in what casinos felt and looked like inside back then, this movie delivers. Mechanical slot machines, piano bar singers, bored blackjack dealers, smoke everywhere, it's all there. Now we can enjoy gambling at home at a place like PowerPlay Casino. Altman said in an interview, "Everybody was involved in that atmosphere, and there was a sense of reality because one minute you were downstairs in the Mapes casino losing money and winning money, and then a minute later you were upstairs on the set filming a crap game."
The casino scenes include plenty of gambling including the poker game, roulette, craps and blackjack. Having grown up in Reno, the film captured the atmosphere so well I sometimes felt I was watching a documentary.

When researching the background of the movie, I learned that Steven Spielberg was one of the two original writers of the script. The primary writer Joe Walsh, was an actor with a gambling addiction. Joe was quoted as saying "I knew so much about gambling, and nobody writes gambling well... I was writing for all the gamblers of the world, people who are going to turn out and watch the movie and say, 'Oh, God, this man is in our heart and soul.'" Walsh was right. His script along with the great acting of Gould and Segal, and direction by Altman resulted in the greatest movie about gambling ever made.
Check it out on Amazon Prime.