As online betting gets more popular, the variety of online casino games keep increasing. Betting fans have more options than ever. Whether you are trying to improve your profits or have more fun, this

There are occasions when we here at ReadyBetGo want to bring you interesting facts about the gambling industry When something catches our eye, we will publish it for your enjoyment.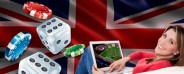 is the best time to improve your betting skills. Take advantage of the following tips.
Choose the Right Online Casino
This is the most important thing to consider when playing online casino games. Put in some effort to ensure that you pick the best casino for your needs. You will have peace of mind knowing that the online casino is safe and reliable.
It should be licensed with a wide variety of games and fair bonuses. Check the payout speed and percentage and compatibility with devices.
When you are trying to practice, go for online casinos with free to play games. These games let you build your experience without investing your own money. In doing so, you will have better chances of making profits when you finally try your luck at a real money casino like Koi Online.
Play Within Your Limits
Avoid playing online casino games that are outside your limits. One of the best things about these games is their accessibility. You can play whatever you want, whenever you please. If you aren't careful, you can go beyond your limits.
There are lots of opportunities to improve your stakes and gameplay. Tournaments and promotions increase the value of your bet. Multi-reel online slots and other detailed games can give you better gameplay.
While you may be tempted to jump at the next jackpot or promotions, it isn't always a good idea. Stay aware of your limits regarding playing experience and skills. The bigger your stakes, the higher the pressure. It may be too much for you if you are a new player.
While going out of your comfort zone is important, you should know where to stop. Overambition could hurt your winning potential significantly. Have clear winning and losing limits for every session. That way, you can have fun without going overboard.
Understand the Different Bets
One of the most important things for a betting fan to do in 2022 is to understand the different bets and how they work. Sports betting has become more complicated than ever. Unlike in the past, you can bet on more than just the winning team. There are lots of exciting bets if you are looking for some excitement.
You can bet on how much the losing team will score, if specific players will score any points, and whether a goal will be scored by halftime.
Understanding different bet types will make your experience fun. It also gives you more opportunities to make money.
Choose the Right Payment Methods
When exploring online casinos, think of the available banking methods. Some are more profitable than others. Go for an option with better withdrawal charges, better bonuses, and a level of anonymity. Crypto payments, for example, can improve your experience. They improve anonymity and privacy.
Other banking methods that could improve your casino experience include bank transfer, PayPal, Visa, and MasterCard. Go with payment methods that offer the best deals for your winnings.
Focus On One Sport
Try focusing on one sport when you are trying to improve your skills. Betting on multiple sports at a time could sound thrilling, but it isn't great for new bettors. There are lots of leagues, divisions, and teams in every sport. Every league has thousands of players.
It is impossible to excel if you don't master all of them. Focusing on lots of sports at the same time could be overwhelming. There is a lot to learn, and you will likely end up with bad bets. If you can't focus on just one sport, limit yourself to two.
Bankroll Management
Managing your bankroll is one of the most important aspects of online betting. Many new players use a sunk cost fallacy, and bankroll management can be difficult. The more money you invest in your bets, the more emotionally attached you may be. It may be difficult to give the money up even when you are losing.
You must know when to cut your losses, when to keep playing, and when to slow down. If you keep playing in the hope that you will eventually record a win, you may lose more money.
Know when to stop, even when you are on a winning streak. The fact that you are winning now doesn't mean you will keep winning if you continue playing.
Don't Drink and Play
Even when trying to make your online experience authentic, avoid drinking and playing. Impaired judgement could limit your winning potential.
Since alcohol can lower your inhibitions, it pushes you to take bigger risks than you normally would. It can have you putting your strategies aside. There is a reason land-based casinos offer their players alcohol. It is a strategy for them to make more profits.
Choose Games with a Low House Edge
Go for online casino games with a low house edge. It is the statistical advantage that an online casino has over you. Avoid bets and games with high house edges if you hope to win. It is easy to find out whether a game really is profitable with some research. Employ strategies that improve your advantage over the casino.
Take Advantage of Free Games
Free online casino games are very important. Most online casinos have free games. You can get a feel of what they have to offer without necessarily investing your own money. The gameplay is a lot like real-money games and the points you win can give you more playtime. Use these games to hone your skills.
Quit While You Are Ahead
A winning streak comes with an adrenaline rush that could push you to keep playing. However, you would be smart to quit while you are still winning. You may be tempted to keep playing in the hope of making more money. However, this is a pitfall that could cost you lots of money.