Going to the races can be a once-a-year, getting-dressed-up event, where it's more about the socialising than the horses, but for many people, betting can become a lucrative hobby. However, it

There are occasions when we here at ReadyBetGo want to bring you interesting facts about the gambling industry When something catches our eye, we will publish it for your enjoyment.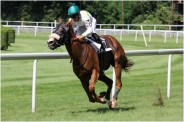 takes a fair amount of skill and research in order to place bets that are more likely to secure a win, and the first step is learning how to read odds properly.
So what exactly are racing odds? You'll see them in the format of number/number, for example, 4/1 or 10/1, and they basically explain the return that you'll receive on a bet if you win. So, if you place a £10 bet on a horse whose odds are 10/1, then you'll get a healthy £110 in return if that horse wins (£100 winnings plus the original bet). Similarly, if you place £8 on a horse with 9/1 odds, then you can expect a return of £80. The odds represent the likelihood of a horse winning, so a horse that is most likely to win will be marked with shorter odds like 2/1 or 3/1. One of these is often the 'favourite' to win, and they are a safe bet to place - however, if you take a risk on a horse with higher odds like 9/1, and you are successful, then you'll win bigger, thanks to the low probability of the win.
Most people are happy using this system to place their bets, and find that it benefits them most of the time, with consistent, small wins that send them home with a smile on their face. Others prefer to play the game a little, risking more to earn more, especially if they're a regular at the races. Accumulators are a common way for punters to take more risk for bigger returns as these cover winners across multiple races and betting each way is a way to reduce this risk as it essentially splits the bet into two: a win bet and a place bet.
A crucial element to the success of these riskier bets is to be aware of horse racing betting news and information because there are many variables that can affect the odds both leading up to and on the day of the event. Odds can change very quickly based on how many people are betting on each horse, so it's important to get up-to-date information. Accumulators are especially common during major events such as the Cheltenham Festival and Royal Ascot
The best way to improve at anything is to practice, so don't be disheartened if you only take small earnings or lose a few times at the beginning, everyone makes mistakes, and no one knows what might happen on the day. If you spend time calculating, learning, and betting, then you'll soon see an improvement - and don't forget that there is a large racing community to lean on if you need to.