We all have one hope when we buy a lottery ticket and that's to win as much money as possible. Sure, most lotteries in the United States will reward winners with a life changing amount of

There are occasions when we here at ReadyBetGo want to bring you interesting facts about the gambling industry When something catches our eye, we will publish it for your enjoyment.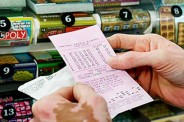 money, but what are the best?
Largest Lottery Wins in the US
Powerball Lottery: $1.6 Billion Jackpot (1 Winner) on January 13th 2016
Mega Millions Lottery: $656 Million Jackpot (3 Winners) on March 30th 2012
Mega Millions Lottery: $648 Million Jackpot (2 Winners) on December 17th 2013
Powerball Lottery: $590 Million Jackpot (1 Winner) on May 18th 2013
Powerball Lottery: $587.5 Million Jackpot (2 Winners) on November 28th 2012
These are the top five lottery payouts in the USA at the time of publishing (June 2016). As you can see, all of these payouts have been within the last several years. What else can you notice? All five jackpots were won on the Powerball lottery or Mega Millions lottery. These are easily the most popular USA lotteries to play.
US Powerball Lottery
Launching in 1992 with an initial $2 million starting jackpot – the US Powerball has grown in popularity and is now more popular than any other lottery. Paper tickets in the USA cost $2 and there's a $1 Power Play feature, which we recommend playing, as the feature allows you to win multiplied payouts if you're lucky enough to win a prize.
Tickets can also be purchased online by international lottery players using a ticket messenger service. Your ticket consists of five regular numbers between 1-69 and a Powerball number between 1-26. The jackpot is won when all five numbers and the Powerball number are matched – the odds of that happening is nearly 300,000,000/1.
Mega Millions Lottery
The Mega Million lottery is very similar to the Powerball. Paper tickets are only $1 per play and like the Powerball, there is a feature called the Megaplier, which costs $1. The Megaplier multiplies non-jackpot payouts and the feature is worth playing for a $1. Some states don't offer the Megaplier – in which case you'll just buy a regular ticket.
The starting jackpot on Mega Millions is $15 million, but the jackpot quickly grows. In fact, the jackpot for the upcoming draw at the time of publishing is nearly $300 million. The odds of hitting the jackpot are just below 260,000,000/1, which means the odds are slightly better than the Powerball lottery, but the jackpots are generally smaller.
Where to Play USA Lotteries
If you live in a state that allows you to purchase lottery tickets, you can buy tickets directly at the convenience store or at any other licensed lottery retailer. However, for those outside of America, you're not out of luck. There are multiple sites that allow customers to purchase USA lottery tickets, albeit at a more expensive rate than paper tickets.
When the Powerball went over $1.6 billion this year, lottery fever exploded around the world. People were buying up a ton of tickets and despite that jackpot being won, people are still buying up tickets. Just make sure you use a reputable service when purchasing tickets online – you don't want them running away when you win or anything.
Many online ticket messenger services offer deals when you purchase multiple tickets at once. You can even space the tickets out over multiple draws, allowing you to purchase a month's worth of lottery tickets at once for example. There are many international lotteries, but none of them reach the heights of the Powerball or Mega Millions.