Recently Atlantic City has been facing is fair share of problems, but fortunately its casinos reported a slice of good news with their first quarter results showing growth. For a city mired in financial

There are occasions when we here at ReadyBetGo want to bring you interesting facts about the gambling industry When something catches our eye, we will publish it for your enjoyment.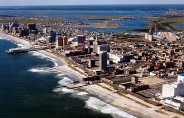 Atlantic City Casinos difficulties the fact that is casino industry's numbers are up is definitely more than welcome.
The figures released by the New Jersey Division of Gaming Enforcement (DGE) show that the 8 casinos operating in Atlantic City cumulatively raked in a total revenue of $802.6 million. In the same quarter last year, the casinos revenue stood at $781.7 million – making it a nice increase of 2.7%.
Breaking down the increase shows that the main gains were made by gaming itself – with revenue rising by 3.5%. Other areas showed a nice increase as well, with rooms and occupancy increasing by 2.6%, and entertainment increasing by 1.6%. Unfortunately the numbers for food and beverage were down by 1.6%, but that didn't spoil the overall picture too much.
Considering the fact that Atlantic City counts on its casinos and gaming industry in general for not only the revenue it contributes directly but also the third party business sales to visitors that it brings in – the positive figures were certainly well-received. More importantly it is fueling speculation that the downturn faced by casinos everywhere recently may be finally over and revenue may be stabilizing.
Needless to say Atlantic City has been hard hit by the falling revenue in the casino industry in general. While it still is home to 8 casinos, it once had 12 – with 4 of them closing their doors in 2014.
It is still too early to know whether the first quarter figures reported by the casinos were a one-off event or whether they are a sign of things to come. Also those figures include the profits that the casino was able to make from online gambling as well.
Assuming the second quarter results show similar promise, it may very well start a resurgence of sorts for Atlantic City Casino. On other fronts the city seems to have finally reached a resolution with the state that will see it being given a loan to help it out of the financial troubles it is in.
That, coupled with an increase in revenue from gambling, could be just what Atlantic City needs to get itself back on its feet. Of course it will take time for that to happen, and the current thinking is that it will be next year at earliest that the city manages to get its affairs in order fully.
For now, the fact that Atlantic City casinos are on the upswing may bring about a renewed interest from investors and gamblers alike. It will be interesting to see how things pan out for the casinos for the rest of the year. While competition from online casinos is still definitely taking its toll on brick and mortar casinos, if they are able to stabilize and grow then it will be positive overall.
If you're heading to an Atlantic City casino for the first time this weekend, Paddy Power have created the following infographic to help you with understanding the casino dealers' hand gestures: