Even though luck is the thing that you mostly rely on sports betting, you also have to consider that there is a ton of skill and strategy involved. Without skill and strategy, it will be harder for

There are occasions when we here at ReadyBetGo want to bring you interesting facts about the gambling industry When something catches our eye, we will publish it for your enjoyment.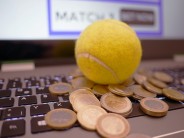 you to win. This is fine if you're just a casual bettor who participates in betting for entertainment. However, if you are serious about your betting career, it's time to step up your game and brush up your skills to be up for the challenge.
People mostly put a lot of money in their favorite player or team or place bets with long odds in hopes of getting a big payout. While this is not a bad strategy, this is only meant for people who bet for entertainment. On the technical side of things, this is a bad idea if you don't want to lose a lot of money.
That said, this article will teach you about some of the more complex and advanced strategies to make the most out of your money and gain bigger payouts at the same time. These strategies are easy enough to follow and are employed by professional bettors everywhere.
Bankroll Management
Although this is an obvious one, a lot of people are irresponsible about their bankroll management. One thing that you can do is to always remember that the money you put in your bankroll should be money that you can say goodbye to. Additionally, the best way to manage it is to divide it into units.
Let's say that you have $500 in your bankroll account. You can divide it into $5 per unit. Every bet that you place should only have 2-3 units, and you should never go over 20% of your bankroll in a single day.
One mistake that people often make is chasing their losses with bigger bets. We know that having a losing streak is a significant impact on your bankroll, not to mention that it's very frustrating. However, you should not be tempted to bet bigger to take back your losses. Take it easy and try again tomorrow.
Chasing losses is not bad, per se. But the more you play while being tilted, the more frustrating it will be to lose. Our advice is to take it easy and wait until you have a clearer head for betting.
Focus on One Team
No, we don't mean to bet on one team only. What we mean is to have a team as a standard. It would also be best if the team is constantly a favorite on the moneyline. Why is this important? The more you know about a particular team, the more you will know their value, meaning you can compare them to other teams as a standard.
Also, if you're in-the-know about a team, you will spot changes in the lines before they even happen, giving you an advantage in the long run. If you think a single team is too limiting, you can pick one team in every league you want to bet on.
Fading the Public
This is simple and easy to do. All you have to do is to bet against the public, and that's it. Why? Bookmakers tend to adjust the line when a big steam move happens. This means that when one team is getting an overwhelming number of bets, they will adjust the line so a lot more people will bet on the other team. Remember that a bookmaker's job is to ensure that the odds are 50/50.
This will lead to soft lines that you can bet on to gain an advantage against the public. The question is, how would you know which of the teams in the public betting for? That's quite challenging, especially that bookmakers don't report on public trends in betting.
However, there are some things you can do to make an educated guess. One telltale thing is that famous franchises tend to lure in most bets. Big franchises have massive fandoms, gaining them more bets in the process.
If both of the teams aren't big franchises, take a look at their players. If a famous player is playing for a team, like Aaron Rodgers or Lebron James, you can safely say that the public is backing them.
Line Shopping
This is also an obvious strategy, but many people often don't do it because it requires time and effort. To put line shopping in layman's terms, if you see a shirt in a store, but you know that the other store is selling it cheaper, you'd be a fool not to buy the other one. Also, by signing up in different bookies, you can luckily find some promotions for new members.
Takeaway
Although sports betting, just like any other form of gambling, relies mainly on luck, that doesn't mean that you should not consider getting the additional skills and strategies available for you. These skills and strategies can help you if you want to increase your bankroll and give yourself an edge against the betting public. If you want more strategies, you can always search the internet for them. It's all within reach.