Over the past years, the improvement of the technology sector has become impressive. It seems everything is possible through our smartphones and laptops now. When 5G technologies were introduced

There are occasions when we here at ReadyBetGo want to bring you interesting facts about the gambling industry When something catches our eye, we will publish it for your enjoyment.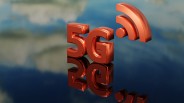 and we got a possibility to try them, we felt how the connection improved in many ways. The internet became faster, the number of failures decreased, giving us a more stable connection without delays and bugs.
The appearance of 5G technologies made the process of internet surfing more comfortable for users. Gamers felt that most as the speed of the connection was always one of the top priorities for them. Online activities in general, but online games in particular, became practically immediate and without any delay. It is now possible to not only play while we are logged into a stable WIFI connection at home, but also from anywhere else on our mobile devices where there is a live internet connection.
The rise of online gambling
One sector that these new technologies had a big impact on is gaming, and in particular the iGaming sector. With 5G being available in a lot of countries already, the gambling experience is now smoother and faster. Users can compare different online casinos on their laptop and play on their smartphone, using the casino's website or the app. With the big variety of providers offering their services online, users should always check the terms and conditions of their chosen website. Different countries or even states have their own rules on gambling: for example, all PA online casino apps might have different rules than the casino apps in other US states. Users should always stay informed about the rules before they proceed with gambling in any country of the world. This is one of the elements of responsible gambling and an important factor for every gambler and online gamer.
Nowadays, the most popular device for gaming and gambling is the smartphone. In 2021, an estimated 68 % of users name the phone as their gaming device of choice – laptop and desktop computers are the second on the list, with only 36 %. And the rise of the 5G technology makes it possible for gamers to play from anywhere, without having to expect bad gaming graphics on their phones, or lags that make it impossible to play a game without having to stop and give up mid-play. And not only that – with a better connection and the use of 5G comes also a more secure gaming experience.
How Live Casinos were affected by 5G technologies
The live casino section was probably the one most affected by the new 5G technologies. In live casinos users play with a real dealer online, so they need a stable internet connection more than while playing slots, for example. The live streams can only really function well with fast internet speed – this avoids lags or even a stop in the game. 5G made it possible to play any live casino games without failures or delays.
As technology advances, we might be in for some more new developments that could be interesting for the online gambling sector. Virtual and Augmented Reality could soon become a trend that online casinos could make use of.