Gambling is one of the most popular forms of entertainment around the world. The history of gambling is as old as the history of humanity, and throughout our development, gambling has developed with

There are occasions when we here at ReadyBetGo want to bring you interesting facts about the gambling industry When something catches our eye, we will publish it for your enjoyment.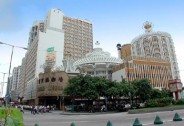 Macau casinos us too. Today, there are cities which are famous for their gambling scene, and in this article, we are going to look at five of the most famous gambling destinations all around the globe.
The Privacy of Your Own Home
Thanks to developments in technology, gambling has moved on to the cyber realm. Since the late 90s and early 2000s, gambling websites have been opening up with increasing frequency, and in the past couple of years they have garnered major attention and prominence. One of the best thing about these gambling sites, is that they function as both a casino and a betting shop, making them a lot more diverse than brick and mortar casinos. One of the best websites for online betting and gambling is www.novibet.ie, where gamblers can play all of their favorite games, and bet on their favorite sports.
Amsterdam
The capital of the Netherlands, is often referred to within the country as the city of sin. Not only is Amsterdam famous around Europe as the city where you can legally smoke marijuana, it is also pretty popular due to its many casinos, which feature games like slots, blackjack, poker, and roulette. Seasoned gamblers will find no shortage of fun in Amsterdam.
Macau
Macau is the biggest gambling destination in the world. The only region where gambling is legal in China means that Macau attracts gamblers, both professional and amateur, from all over the country (as well as the world), looking to visit some of the most luxurious casinos in the world. On top of that, Macau is rich with history, and tourists can see some truly great sites, such as the ruins of the biggest church in Asia, a gorgeous Chinese temple, as well as a number of grandiose malls, for those of you shopaholics out there.
Las Vegas
How can we make a list like this, without mentioning Las Vegas? Popularly referred to as Sin City around the world, Las Vegas is synonymous with gambling. Some of the most luxurious hotels and casinos decorate the city, offering, not just the most popular gambling games (like poker, blackjack, slots), but also some lesser known games from around the world. But gambling is not the only thing to do in Las Vegas. Magic Shows, Burlesques, hiking, museums, all this and more can be enjoyed on a Las Vegas holiday.
Atlantic City
Las Vegas' less popular older brother, Atlantic City remains one of America's biggest gambling destinations. The high-rise hotels, nightclubs and bars further improve the Atlantic City experience for any gambler.
Monte Carlo
Beautiful beaches, historic landmarks, natural sites all play a huge part in the draw of the city. On top of that, the Monte Carlo Casino is one of the most popular in the world, featuring all of the most popular gambling games, as well as a wide variety of shows and attractions that will keep, even non-gambler guests, entertained.