Golden Touch Blackjack Revolution!
by Frank Scoblete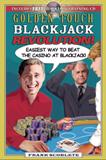 the revolutionary and incredibly simple, yet powerful, Speed Count and the matching Optimum Basic Strategy (OBS). In minutes you can learn Speed Count and be able to play blackjack with an edge over the house. This new book includes a FREE CD so you can practice the Speed Count and OBS at home.

Golden Touch Dice Control Revolution! How to Win at Craps Using a Controlled Dice Throw!
by Frank Scoblete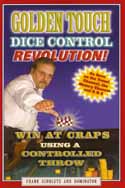 This book explains in words and pictures how to develop a controlled throw in craps to gain the edge. Over 90 photographs show how to set, grip, and throw the dice. You will also learn how to practice your throws, how to determine if you are controlling the dice, how to bet on controlled and random shooters, how to determine your playing bankroll, practical casino camouflage, team play, and more.

Armada Strategies For Spanish 21
by Frank Scoblete

It took a while, but this game finally became a casino staple, probably because it's an action game with a very small house edge. Even though it's a simple game, the special rules and various additional payouts sometimes confuse the player, especially because of the "missing cards," and because the playing strategy is different from the old-fashioned 21 game. So, to clear all that confusion up, Scoblete takes you through the game from start to finish, beginning with his Armada Play Basic Strategy, which gives you the correct play for every player hand against every dealer hand, following with Armada Ruse, (devoted to maximizing comps), and Armada Money Management, a system for making your money go further.
About Frank Scoblete

Frank Scoblete is the one of the most popular gaming authors in America. He has released sixteen books, three audiotapes, three videotapes, and his own imprint, the Scoblete Get-the-Edge Guides. Scoblete has written about all the casino games, but his passion is craps. His first book, Beat the Craps Out of the Casinos, is the best-selling craps book of all time, and it started players thinking about dice control. His follow-up books, The Captain's Craps Revolution and Forever Craps, solidified his position as the authority on the game.
Scoblete is the executive director of Golden Touch Craps dice-control seminars, and he has served as a consultant for CNN, TBS, Travel Channel, Discovery Channel, Silicon Gaming, and IGT. He writes for over forty of casino gaming's top newspapers and magazines. Scoblete does a weekly radio show from Memphis, Tennessee, The Goodtimes Show on WMC-AM 790.
Frank's website is www.goldentouchcraps.com
Latest Frank Scoblete Articles
Craps by the Numbers: 5, 6 & 7
In this article, we take a look at the 5, 6 and the pivotal 7. For craps players, the 7 is a god--it is feared, it is loved, it is supreme and we sacrifice a lot of money to gain its favor.
Cutthroat Craps Strategies
Cutthroat Craps is an area of craps play that can be rather daring, yet still based on sound principles of both math and logic and can, when things are going right, yield much more in the way of return than can traditional approaches
More Cutthroat Craps Strategies
In the second part of Frank's article on Cutthroat Craps, you'll learn how to pick up patterns from skilled rhythm shooters.
The Roller Coaster Game of Let It Ride
The table game that has cornered a significant share of the 'other table-games market' is Let It Ride. In fact, some players have become as enamored of Let It Ride as slot players are of the one-armed bandits. In this article, Frank Scoblete explains why.
Basic One-Two Craps Punch
Craps is unique among casino games. It is the only game in the casino where the house gives the player the dice and says, 'Here, beat us if you can.'