Get the Edge at Craps
by Chris Pawlicki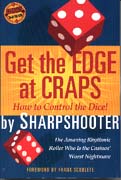 The author, nicknamed The Sharpshooter, has a background in math and physics and applies several of those principles in regard to how to hold the dice and how to launch them in a casino. There are sections of his work devoted to 'the grip' and the delivery; how to practice‹how to form a 'team' of people who single-handedly can create a hot table. The book contains a section on 'muscle memory' and explains how to select, master and apply a new delivery technique in under a month. It takes you from the basics to more advanced concepts and includes a history of the evolution of the game; how the table is designed. There's advice on how to get personal lessons after you've read the book as well.
About Chris Pawlicki

Chris Pawlicki (AKA Sharpshooter) is the author of the best selling How to Control the Dice, considered by many as the Bible of Dice Control, and probably responsible for more successful dice controllers than any other book.

Sharpshooter's Dice Control Team, called "Rosebud," was recently featured on the History Channel. Two of his students featured on that show are now using his dice control techniques to play craps professionally.
Chris's website is www.sharpshootercraps.com
Latest Chris Pawlicki Articles
The Two Keys to Successful Precision Dice Control
Chris Pawlicki first wrote about the physical phenomena of dice trajectories and other critical elements of dice control in his ground-breaking 95,000 word book, Get the Edge at Craps, How to Control the Dice. This article summarizes the first key to precision dice control. The second article will follow shortly.
The Second Trajectory in Dice Control
With his new article on dice control, subtitled, 'How to Hit the Back Wall Pyramids and Still Maintain Control', Sharpshooter offers a graphical description of the optimal throw method necessary to achieve the results that will make a dice control player a winner.
How to Grip the Dice For Maximum Control
The Grip is the most important factor in successful control. Chris Pawlicki, aka Sharpshooter, explains the technique he uses when gripping the dice for the best results.
The Second Key to Precision Dice Control
In the second of two articles, Chris Pawlicki describes the Apex Dice-Strike. This provides the second key to precision dice control and is featured in his upcoming book, Winning Dice Control Techniques -- Shooting Craps from the Zone.