LONDON, ENGLAND -- It has become apparent, that since the online gambling boom which, currently seems to be never ending, women seem to be taking to the virtual tables as much as their male counterparts.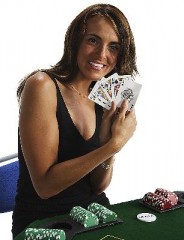 There are a multitude of possible reasons for this.
Firstly, gambling has changed in recent years and it has become less taboo, which in turn has generated a more mass market appeal for both men and women. It is becoming increasingly easier to gamble due to the use of broadband and credit cards etc.
In addition, advertising has really focused on the female demographic for bingo and slots, in particular with the use of TV and the sponsorship of female focused programmes such as Jeremy Kyle.
The shift from bingo halls to online bingo has resulted in higher female gambler figures. This is due to larger jackpots, the smoking ban and the online community atmosphere.
Bingo seems to be the most popular form of online gambling for females. Over 70% of bingo players are women; this could be due to many bingo websites such as love bingo and cheeky bingo having a very female orientated layout.
Women's play tends to differ from men as they prefer games such as bingo and slots which tend to have lower stakes and is therefore lower risk. Research from Poker Players Research has found that although women gamble more online, their deposits are smaller and they spend less time playing. Operators take advantage of this fact by offering many promotions including 'free plays', 'deposit matches' and 1p bingo tickets etc.
In spite of this bingo isn't the only form of gambling becoming popular with women. Poker Players Research has shown that this form of gaming is becoming increasingly popular with females, predicting that "one third of online poker players will be women by 2011". This is due to poker companies deviating from the traditional 18-35 male demographic and starting to target females more aggressively, employing marketing personnel whose sole responsibility is to acquire female players.
Poker companies are beginning to organise female only poker tournaments and are inviting more female journalists to the larger poker tournaments and free rolls with the hope that they will write a story about it. Despite these efforts however, it has been found that many women still tend to have more masculine alter ego's so not to be taken advantage of at the online tables.
The female demographic is clearly a key aspect of any online gambling site's strategy. Lots of investment should be in place to target and keep female players as they tend to be more loyal.
In spite of this males still dominate the casino, poker and betting sectors, usually wagering large stakes. Female player numbers are evidently on the rise, especially in the bingo sector, however males will continue to make up the majority of this ever- expanding market.
About Gaming Alerts Ltd:
Gaming Alerts is the UK's leading online gambling portal offering users in depth reviews, daily news and promotions from the biggest operators. Covering all aspects of online gambling including: bingo, betting, casino and poker; the site is a must for any gambling enthusiast.
Source: Gaming Alerts Ltd
Website: gamingalerts.co.uk