LAS VEGAS, NV - The Plaza Hotel & Casino Las Vegas will host four $150,000 Super Bingo tournaments in 2013 with event dates held February 24-26, May 5-7, August 11-13 and November 17-19. All bingo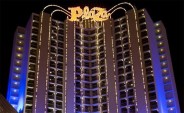 players will compete head to head in the Plaza ballroom with no linked games. All events are limited to 950 guests. Guests will have the option to book the Hotel and Bingo Package that includes three nights in a remodeled room, both sessions of Super Bingo, $20 Free Slot Play, two Super Bingo daubers and two $10 Dining Certificates or the Bingo Only Package that includes both sessions of Super Bingo, $20 Free Slot Play and two Super Bingo daubers.
The Plaza offers Early Bird discounts for each event that include either a discounted price for locals or a free night for non-locals. To book packages call 1-866-768-7032 Monday thru Friday from 10am to 4pm. During the event, players receive complimentary continental breakfast on both event days and can play in 7 early bird games with a total payout of $7,000 each day. Each Super Bingo session has 21 non-linked games for a total of 42 games with a $25,000 coverall each day. Once the Super Bingo sessions are complete, players are able to take part in our regular scheduled bingo sessions and win more prizes in our Bonus Bingo drawings. Winners of the Bingo Bonus drawings are selected throughout the regular bingo sessions and prizes include bingo vouchers and free slot play.
The Plaza is the only downtown Las Vegas casino that has a bingo room, which is located on the 3rd floor. We offer six daily sessions at 11am, 1pm, 3pm, 5pm, 7pm and 9pm. Players compete daily to win the Plaza Bingo Room's $20,000 Super Bonanza, $10,000 Super Coverall, $10,000 Super Letter X, $10,000 Progressive Dual Daub or our $5,000 Bonanza! The Plaza will finish 2012 with $150,000 Super Bingo on December 14-16. Guest registration will be Friday, December 14 and the main events are held on Saturday, December 15 and Sunday, December 16. Both the Bingo Only Package and the Hotel and Bingo Package are still available.