MONTREAL, Quebec -- Leading provider of affiliate marketing software in the online gaming industry, Income Access, has announced that it will partner with the most trusted brand in the Swedish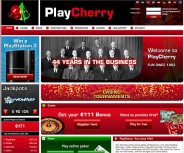 Playcherry.com home page market and key player in Europe, PlayCherry.com. Through this partnership, Income Access will provide PlayCherry with advanced, market-leading affiliate marketing software to power the PlayCherry.com affiliate network.
The Income Access affiliate software will provide PlayCherry.com with a variety of advanced features to help them maximize the ROI of their affiliate program. Advanced administrative features will offer added control of their campaigns. In-depth tracking reports will also provide insight PlayCherry.com into the performance of those campaigns, giving them the intelligence that will allow them to optimize their online marketing efforts.
The Income Access software also features an array of functions and features to help PlayCherry.com affiliates optimize their online marketing campaigns. PlayCherry.com affiliates will enjoy graphical reports, providing them with advanced intelligence on campaign performance at a glance, as well as more in-depth tracking reports. A variety of marketing tools will also help affiliates boost traffic, referrals, and conversions.
PlayCherry.com offers its affiliate a variety of lucrative commissions. Both new and existing affiliates receive 20% revenue share for gross monthly revenues of up to €5,000, 25% for revenues of €5,001 to €12000, 30% for €12,001 to €25,000, 25% for €25,001 to €35,000, and 40% for €35,001 or more.
"The new partnership between Income Access and PlayCherry.com represents an exciting opportunity for gaming affiliates," said Nicky Senyard, CEO of Income Access. "It will afford them advanced tracking reports and marketing tools they can use to optimize their marketing efforts. Coupled with PlayCherry's lucrative commission structure, affiliates will be in an ideal situation to boost their earnings."
PlayCherry.com offers players a variety of casino, slots, poker and bingo games, as well as sportsbetting on a range of disciplines, from baseball to alpine skiing. The PlayCherry.com casino includes more than 180 different games including blackjack, baccarat, craps and roulette. New casino players can avail of a 50% welcome bonus of up to €111, and monthly bonuses of up to €30.
For poker players, reload bonuses are available of up to €2,000, with first deposit bonuses of up to €200. There are also as many as 19 freeroll poker tournaments available every day. PlayCherry also offer a number of live Poker cruises around Europe. Sports fans can take advantage of a sign-up bonus of 10%, up to €50, deposited straight into their account. PlayCherry also features a list of the most popular bets each day, as well as the last-minute bets on offer at any time.
Completely brandable and customizable, the Income Access affiliate marketing software provides iGaming operators with the ability to extend their brand experience to affiliates. In a constant state of development and updated regularly, it features a variety of in-depth tracking reports and marketing tools that help both operators maximize their online marketing campaigns.
PlayCherry has a multilingual support team available to players in English, Russian, Swedish and Finnish. On top of these languages, the gaming website is fully translated for players speaking Polish, Greek, Danish, German, Italian and Norwegian.
To join the PlayCherry network affiliates can click here: playcherry.com/en/Affiliates.aspx and follow the instructions to sign up to the program, or review the range of advertising banners available to affiliates.