Who Is the Man with the Online Gambling Plan in Michigan?
2018 is shaping up to be a humdinger for US online gambling legislation. Already, 4 US states have legalized online casino and/or online poker,

There are occasions when we here at ReadyBetGo want to bring you interesting facts about the gambling industry When something catches our eye, we will publish it for your enjoyment.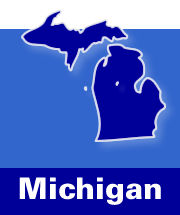 and multiple other states are considering proposals to do precisely that.
The one state that is grabbing the attention of gaming pundits around the country is Michigan. And it's all because of one lawmaker by the name of Rep. Brandt Iden. This Republican lawmaker was elected to serve the 61st District of the Michigan House of Representatives back in November 2014.
What is House Bill 4926 all about?
Representatives Kesto, Kosowski, Crawford and Iden introduced HB 4926 on 12 September 2017. The bill is designed to legalize online gambling in the state of Michigan. It also seeks to create an independent division for online gambling, and to entrust power to oversee gambling activity to the state of Michigan. If passed, it will be known as the Lawful Internet Gaming Act.
Like so many other states that are following New Jersey are currently working around the clock to pass legislation, Michigan lawmakers recognize that the Internet is an intractable component of everyday life. As such, legal-age people have a right to enjoy online gambling activity as part of their entertainment. Games of skill and games of chance are included in House Bill 4926.
The bill seeks to find creative ways to capture revenues from the provision of online gambling games by creating a responsible gaming framework within which operators can provide their services. Additionally, the lawmakers believe that HB 4926 is in full compliance with the UIGEA (Unlawful Internet Gambling Enforcement Act) of 2006. According to the bill, Internet gaming licenses will be issued for a 5-year period, and are renewable for another 5-year period.
Applications will be accepted for a one-time application fee of $100,000, and Internet gaming licensees will pay a license fee of $200,000, followed by a $100,000 fee every year after the initial license has been issued. HB 4926 seeks to impose a tax of 15% on the GGR (Gross Gambling Revenue) of licensees.
What is the Status of HB 4926?
Rep Brandt Iden acknowledges that the state of Michigan has been a little behind the eight ball in passing legislation related to online gambling. However, he believes that the House and the Senate will move swiftly in Q1 2018. According to Iden, '… I'm looking to continue discussions with stakeholders throughout January and early February… We were a little behind my goal, but we're moving the ball forward…' There are still obstacles in the way, including the 12 Native American tribes in Michigan. Combined, these tribes operate some 23 gambling operations in the state of Michigan, and they are united in their opposition to the bill.
The wrench in the works relates to section 16 which was subsequently removed from the bill. It states that if federal law makes changes whereby Native American tribes are prevented from offering online gambling, Detroit casinos would not be able to offer online gambling. In other words, it all depends on whether the Department of Justice (DOJ) will allow Native American tribes to offer online casino games. Commercial casinos do not want to jeopardize their prospects of online gaming and have expressly called for lawmakers to remove section 16 from the bill. Lawmakers do not have legislative authority over Native American tribes, or their operations. As such, they are acting at the behest of the 3 commercial casinos in the city of Detroit.
For these reasons, Native American tribes have now been excluded from Michigan's online gambling bill, HB 4926. While the House bill proposed a tax rate of 15% on online gambling activity, the Senate bill that was introduced by Mike Kowall proposed a tax rate of 10%. This is a major reason why Detroit's casinos have signed on to the idea of offering online casino games. Detroit has suffered in recent years with a brain drain, and capital flight. The city has fallen into disrepair, and lawmakers are hoping that online casino gambling can lead the way for a resurgence in the city. The initial bill passed its first hurdle by a margin of 12:3, and lawmakers believe that it will make its way onto the governor's desk with little opposition.
Will Michigan be Next to Join PA, NV, NJ, and DE?
Gambling aficionados believe that the current status of online gambling legislation around the country is akin to a game of dominoes. Every time a state regulates online gambling, surrounding states advance legislation to protect their gambling industry from ruin. New Jersey got the proverbial ball rolling in 2013, followed by Delaware and Nevada. In 2017, Pennsylvania greenlighted online gambling, and Michigan looks set to be the next US state to do precisely that. However, online gambling advocates stress that the focus shouldn't be solely on Michigan. Other states like New York and California are also mulling prospects vis-à-vis online gambling legislation.
Rep. Brandt Iden believes that Michigan should be at the forefront of technological advancement in online gambling. He said that it's not a question of if, but when online gambling activity is fully regulated. According to the proposals put forth by Brandt, land-based casinos in the state would be allowed to offer online casino games to players within Michigan's geographic borders. If agreements can be reached with tribal operators, gambling compacts could be entered into as well. Provided the federal government gives the green light to sports betting, Michigan is prepared to offer skill-based games like poker, online casino games, slot games and sports betting. HB 4926 passed the House Regulatory Reform Committee in December, and will proceed to the House for a vote.