Great Video Poker at Club USA Casino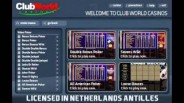 Club USA Casino offers a huge variety of video poker machines in a range of denominations. There over 14 different video poker games including Deuces Wild, All American Poker, Jacks or Better, Joker Poker and more. Many are available in multihand video poker format. Coin-in choices range from $.05 to $5.00 on single hand machines and $.01 to $1.00 on multi-hand machines.
Club USA Casino Craps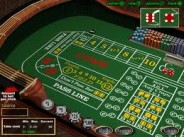 Club USA Casino has good craps action at their site. They offer private, public and reserved tables. The minimum bet is $1 and the max is $500. The casino offers behind the line odds. Nice graphics and sound add up to a satisfying craps experience. Good shooting.
STOCKHOLM, Sweden -- Jadestone Networks, the Nordic based owner and operator of multiplayer gaming networks GamArena and DiceArena, announced today that the World Series of Backgammon (WSOB) is joining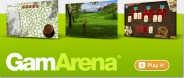 Jadestone's GamArena their new backgammon network. The official launch will take place on Friday July 24, 2009 in Cannes at the WSOB live event.
The backgammon network, built on Jadestone's cutting edge DiceArena multiplayer platform, was launched in June and it already includes partners such as bwin, Nordicbet and PAF. The WSOB joins it during a period of rapid growth in player numbers and it will bring with it significant backgammon expertise and a large base of keen backgammon players.
"We've already seen that backgammon is a tremendously popular game," said Robert Henrysson, CEO at Jadestone. "All of our partners are hungry to launch our new version and player numbers in the network have grown every day since early June. We want to become the largest network and to be the first choice for dedicated backgammon players across Europe and this partnership with the WSOB underlines just how serious we are."
Andy Bell, Managing Director of the WSOB, is also excited about the new partnership and said that: "We've been building up to this online backgammon launch on our WSOB site for some time, but we think it was worth the wait; the Jadestone platform is absolutely the right solution for us. From July 24 all backgammon enthusiasts will be able to play online via our site and qualify for WSOB offline events in cities such as Cannes and Prague and for the WSOB Championship in London this October where the expected prize pool will top €300,000. We have a strong field of players lined up to get rolling on our new online site."
The Jadestone backgammon network is fully compliant with all commonly used competition rule sets and includes the same extensive operations and anti-fraud systems as other DiceArena games. It is an integrated part of the Jadestone Arena games 'super network' which means that it shares the player identity system and liquidity with other multiplayer games networks including GamArena. It is available across Europe with support for 25 languages.
On July 24, 2009 the WSOB and Jadestone will officially launch the WSOB branded backgammon site during the Cannes WSOB event at the Palm Beach Casino. Qualifying tournaments for the Prague WSOB event will be online and open from that day.

Jadestone networks
Björns Trädgårdsgränd 1
Stockholm 116 21
Sweden
Phone: +46 8 24 05 01
Fax: +46 8 24 05 08
Website: www.jadestone.se/

Jadestone is a young company in the digital entertainment industry. It was founded in 2002 with a vision to become one of the leading online game publishers in Europe. Currently they have 4 product lines from skill, dice and slot games as well as skill games.