Mystic Dragon Slots Cast a Spell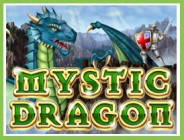 Club USA Casino's Mystic Dragon Slot is a 25 line / 5 reel video slot transporting you to a fantasy land of castles, dragons, knights and beautiful princesses. Ancient scrolls, treasure chests, and fire-belching volcanoes add to the mystery. Get ready to fight the dragon to win more spins and huge jackpots.
BILOXI as reported by the Sun Herald -- Work already has begun to transform Isle Casino into the Golden Nugget Casino Biloxi.
Landry's Golden Nugget bought the East Biloxi casino Nov. 29 and has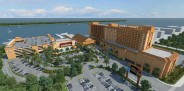 An artist's rendering of the Golden Nugget Biloxi shows how the exterior will be remodeled. remodeled five of the guest rooms that visitors can tour this weekend.
By about Memorial Day, one-third of the $100 million remodeling and construction project should be done and the resort will be re-branded as Golden Nugget. Before that happens, Faraday's restaurant will become Morton's Steakhouse and Rush Lounge and a Party Pit will become new venues for customers.

All of the public space and the 720 hotel rooms and suites will be renovated. Two other restaurants, Bubba Gump Shrimp Co. overlooking the pool and Lillie's Asian Cuisine and its adjacent Asian casino space, are coming. Lillie's will be in the first phase of renovations and Bubba Gump in the final phase that will add a new casino floor, a comedy club, a new spa and the H20 resort swimming pool with year-round hot tubs and fire pits. The final phase is scheduled to be complete in February 2014
Golden Nugget Casino Biloxi
151 Beach Boulevard
Biloxi, MS 39530
Toll Free Phone: (800) 843-4753
Website: www.biloxiisle.com

The Golden Nugget Casino Resort Biloxi offers over 1,100 of the hottest slots all with ticket-in/ticket-out technology, 27 exciting table games and a new poker room. The resort features over 700 Caribbean Style rooms with a gulf view including 200 new Jacuzzi Suites, a Calypso's Buffet, Tradewinds Express and a 'Taste of Farraddays.'