CONNECTICUT - As reported by the Hartford Courant - Slot revenues at both Foxwoods Resort Casino and Mohegan Sun dropped about 12 percent in December, the casinos reported Tuesday, completing a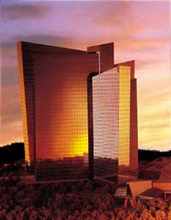 The Mohegan Sun in Uncasville, Connecticut. full year of year-over-year declines.
Foxwoods in Mashantucket raked in $44.2 million from slot machines last month, down 12.1 percent from the same month in 2011. Visitors put a total of $548.5 million into those machines in December, the casino reported.
Mohegan Sun in Uncasville reported $50.0 million from slot machines, down 12.2 percent from December 2011. Visitors bet a total of $616.0 million in the casino's slot machines in December, Mohegan said.
The state's two resort casinos contribute a quarter of their revenues from slots to the state. For December, Foxwoods contributed $11.6 million, and Mohegan contributed $12.5 million.
Foxwoods and Mohegan last posted a year-on-year increase in slot revenues in December 2011.