OKLAHOMA - Over its five-year history, Downstream Casino Resort has infused more than $1 billion of economic impact into the Tri-State regional economy, according to an independent study by KlasRobinson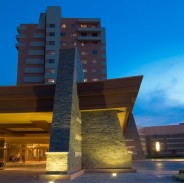 The Downstream Casino Resort is a very popular casino in Oklahoma.
Q.E.D. of Minneapolis, Minn.
"Five and a half years ago we stood out here in the woods and announced what we hoped to achieve: to create something that would benefit all the communities by providing good jobs, a foundation for sustainable economic development, and to serve as a good citizen and community partner," said Downstream Chairman John Berrey at a news conference Friday to share the study's results.
The report detailed the full history and scope of Downstream's economic impact in the region where Oklahoma, Missouri and Kansas intersect. Highlights of the report include:
-Overall economic impact history: Since its July 2008 opening, Downstream Casino Resort has generated more than $225.0 million in economic output annually, and created more than 1,640 permanent jobs with total annual workers' earnings of over $58.0 million.
-Since opening, Downstream Casino Resort has generated a cumulative economic output of almost $750 million. With the completed construction of phase II, the expanded $361 million Downstream Casino Resort has generated a cumulative economic output of over $1.0 billion for the Tri-State Region.
-Downstream's direct impact: the resort's direct impact comes from its own 1,200 jobs with $34 million annual payroll, almost $12 million in annual employee benefits, as well as its $41 million in annual purchases of goods and services for on-going operations, and more than $7 million in annual taxes.
-Overall impact is the result of direct impact dollars multiplying throughout an economy and creating induced and indirect impact - this is also known as the "ripple effect."
-Oklahoma Impact: Induced and indirect impact on northeast Oklahoma includes $10 million annually in total output and 87 jobs with annual earnings of $3.4 million. Downstream Casino Resort pays the state of Oklahoma more than $5.7 million in annual gaming taxes, and cumulatively has paid the state more than $29 million in all taxes.
-Tribal Impact: Downstream distributes $10 million a year to the Quapaw Tribe that goes toward tribal services such as health care, environmental services, senior services, children's learning center, scholarships and subsidized housing for Tribal members. That money also ripples through the regional economy.
-Future Impact: With the opening of its new Kappa hotel tower, Neé Spa and other amenities, total annual economic output is projected to reach almost $300.0 million annually, as well as creating a total of 1,880 permanent jobs with total annual earnings of almost $68.0 million.
-Upon completion of Phase II at Downstream Casino Resort, the expanded $361.0 million property has also created some 1,300 construction jobs to date.
The news conference was followed by a ribbon-cutting and celebration marking the completion of Downstream's second hotel, the 152-room Kappa Tower and Neé Spa.
Downstream Casino Resort
69300 East Nee Road
Quapaw, OK 74363
Downstream Casino Resort features a 70, 000-square-foot gaming area with 2,000 slot machines, 30 table games, a 14-table poker room and a race book in the Legends Sports Bar. The resort offers 222 luxurious guestrooms.