LONDON, England -- Domain trading remains one of the most lucrative business opportunities available to anyone working online. A domain name can be the difference between success and failure for any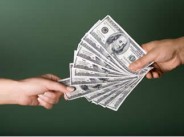 new start-up and beyond that, URL's have come to be recognised as a reliable investment opportunity and a low-risk trade which can turn into a sizeable asset. This is largely due to the traffic generating potential a domain can attract itself and to other sites directly linked. Not only can it re-enforce your brand and make your name recognisable, but it can also attract walk-in business and increase your SEO rating.
This has quickly become self-evident in the online gambling industry, where traffic is the lifeblood of all operating and affiliate sites. Not surprisingly domain trading is gaining international prominence as a viable income generating business. At face value, trading in domain names appears simple; buyers and sellers meet in the online marketplace and each competes with the other to buy a name that is easy to remember, likely to make the most impact and most importantly is directly relevant to their product. But it's perceived simplicity can easily fool a newcomer; competition is fierce due to the lucrative revenue one can produce and a good domain name gets snatched within seconds of being dropped. All is not lost however, as quickly as names are being taken, so in the limitless world of the internet, thousands drop off everyday.
A simple solution is to find when and where you can get the best domains in your market – whether this is finding domain auction sites which are directly invested in your field of interest or finding times and dates of live auctions which allows for pre-empting the buying of a URL of particular interest. A good example is the live auction at Budapest Affiliate Conference (BAC) to be held on the 11th-12th September, in partnership with Gamblinginvest.com, an auction site dedicated to gaming related domains.
"I'm confident of putting together at least 200 premium gambling domains for our first ever live auction event at Budapest Affiliate Conference", CEO and founder of Gamblinginvest.com Pierluigi Bucciolo stated. "But I actually look at BAC as a trial run in anticipation of an even bigger live auction event at London Affiliate Conference in January 2010!"
Alex Pratt, Publisher and organiser of iGB Affiliate Events confirmed the re-occurring nature of the auctions, "This is a fantastic new feature for our events and we are always looking at ways to maximise revenue potential for all our delegates. It simply makes sense to continue after receiving such a wide interest". He adds "Domain names will always be in demand irrespective of the state of the world economy and for that reason alone are of huge interest at the moment. We are giving a chance for people to bid both on premium never before sold URLs through to established domains that have already proven their worth. There is an opportunity here for everyone".
Whilst there is an obvious and distinctive advantage to attending the auction at the event in person, it will be possible to place bids online, by telephone or leave absentee bids with the auctioneer. This multi-faceted involvement in domain auctions shows the high value and importance placed upon URLs and the development of the iGaming industry in leading this online progress. If you would like to submit a URL for consideration or leave an absentee bid, simply email sales@gamblinginvest.com.
The organisers expect the attendance for their Budapest event to be one of the highest yet, and as it is free of charge for affiliates to attend, they expect high demand and fierce bidding. The full list of URLs will be available from 1st September on www.GamblingInvest.com, just 12 days before the start of the conference. For more information and to register, visit www.budapestaffiliateconference.com. You never know, you might come back with a great investment.