Looking for a way to access your favourite casino games from home? Bodog Casino has been growing with the additions of new casino games every single week.

As you'll see in the New Games section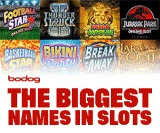 of the site, slots are the focus of the expansion, making it possible to play in a variety of new and interesting ways from the comfort of home. Play casino games at Bodog and get a 100% bonus. Whether your preference is for sports slots, TV and movie-based games, progressive jackpots, five or three-reel slots—just to name a few of the options, you'll find what you're looking for in many different forms at Bodog.
A lot of people join for the progressive jackpot games, as they make it possible to win hundreds of thousands, and in some cases even millions of dollars from one lucky spin. Leading the pack is the $6.622 million slot, Shopping Spree, which has the biggest jackpot available at this time. Beyond slots, casino strategists will be pleased with the wide selection of table games and video poker variants. Go up against the dealer in a round of Blackjack; you can choose between a computerized one or have a real person deal the cards. Baccarat, Roulette (both European and American) and Super 6 are also available with real people running the game in the Live Dealer section of the casino.

Play casino games at Bodog today