The Everything Craps Strategy Book
by Larry Edell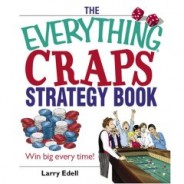 Larry Edell's Everything Craps Strategy Book is full of information for the aspiring craps player or for someone who wants to hone their craps skills. The book includes basic odds and theory overview, don't pass and don't come strategies, a discussion of betting systems, prop bet systems, and much more. Also included are sections on dice control techniques, craps tournaments, and an in-depth look at how to get complimentaries while playing craps.

101 Ways to Win at Craps
by Larry Edell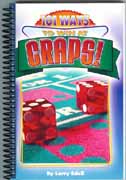 Ten major chapters (plus a glossary, resources page and index) cover the entire range of craps play. Each chapter is divided into ten sections. For example, the Pass and Come Methods includes information on how to make odds-only bets; betting before the come out; making money with place bets; pushing the house; making money with come bets; protecting your pass line bet; betting don't; multiple odds table; remembering odds; making money on a cold table.
The book also includes $50 worth of free coupons.
About Larry Edell

Larry Edell is one of the best-known experts in the field of craps. He is the author of seven craps books, including the #1 Best Seller, "How to Make Your Living Playing Craps." and is a frequent contributor to gambling magazines.
Larry is the founding editor of "The Crapshooter Newsletter," the award winning newsletter devoted exclusively to __casino craps__. He is also the CEO of Leaf Press, which has published books by John Patrick, Zeke Feinberg, Tina Trapp and others. His most recent book is "The Everything __Craps Strategy__ Book," available in bookstores everywhere.
ReadyBetGo.com readers can get a FREE issue of The Crapshooter Newsletter just by sending two first class stamps to The Crapshooter, Dept RBG, PO Box 421440, San Diego CA 92142.
Larry's website is www.thecrapshooter.com
Latest Larry Edell Articles
The Secrets of Basic Craps Tournament Play
If you are a regular crapshooter, you might want to enter a craps tournament some day. Some of these contests are free to enter, some cost a few hundred dollars, and a few cost quite a bit more, depending on the prize money. In this article, Larry Edell outlines some sound strategy for craps tournament play.
How YOU Can Grip the Dice Like an Expert
There are actually three parts to controlling the dice -- Setting, gripping and throwing. This article will explore the best ways to grip the dice after you've set them, so that your throw is accurate.
Winning Strategies for Table Games
There are three aspects relating to table play that, when used properly, will increase your winnings substantially. You've probably heard of these three 'systems' - win/loss goals, discipline, and comps. Larry Edell takes a look at all three and see how they can benefit your gambling sessions, whether you play blackjack, craps or roulette.
Craps Pro Secrets of Fours and Tens
Most place bettors seem confident that the best place bet is the 6 or 8. Wanna know the secret that craps pros use to get better odds than the 6 and 8 offers? Let's find out.
The Secret to Coverting Come Bets in Craps
By betting the come, many people believe that they can take advantage of a hot streak or a 'monster roll'. In addition, come bettors often take double (or more) odds, both on the pass and come lines, to maximize their wins.
The Secrets of Horn Bets in Craps
A horn bet is a one-roll bet on the 2, 3, 11, or 12, and must be bet in multiples of 4. For example, you can make a $4 horn bet or an $8 horn bet, but not a $5 one. Each bet pays off individually. If you bet a $4 horn and the next roll is a 2 or 12, you'll win $30 (at 30:1). Learn more about horn bets in this article. . .