Internet Gambling
by J. Phillip Vogel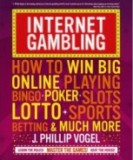 Subtitled 'How to Win Big Online Playing Bingo, Poker, Slots, Lotto, Sports Betting, and Much More ,' Internet Gambling consists of twenty-three engaging and descriptive chapters where Vogel demystifies and dissects all topics related to Internet gambling, including the history of online gambling, how to get started, choosing the best sites, understanding the various kinds of software available, the technical difficulties one might expect to encounter, managing money, and more.
About J. Phillip Vogel

J. Phillip Vogel is considered a leading authority in online gambling. He is also the author of a series of best-selling gambling books collectively titled The Real Deal. He has written for most of the major gaming publications worldwide including Casino Player, Strictly Slots, Gambling Online, Bluff, and many more. He is the founder of online watchdog site TheOPN.com at www.theopn.com and currently serves as the Editorial Director for Poker Life magazine.
Latest J. Phillip Vogel Articles
Choosing an Online Poker Room
Only a handful of years ago, choosing an online poker room was a fairly easy process -- there were simply barely enough of them around to make it a challenge. Oh, how things have changed. The past few years have spawned a multitude of online poker rooms, all boasting some combination of tournaments, satellites, ring games, and more.
Online Scratch Cards Explained
Online scratch cards are the web's answer to the instant lottery tickets from the corner store. Like their traditional counterparts players must scratch concealed areas of the ticket to see if they've won a cash prize.
Find the Best Odds when Gambling Online - Part I
According to John Vogel, just knowing where to play is half the battle. We couldn't agree with him more. Here are John's recommendations for the best places to play online when you are looking for a particular game or slot.
Pushing the Limits Online
High rollers typically have a tough time getting their level of action online. Not anymore. In this column, John Vogel takes a look at some of the efforts Mansion.com has taken to accomodate high rollers.
Basics Tips and Strategy of Craps
While there are plenty of strategies designed to fit the various playing styles, for beginners I suggest sticking with the 'Do' side of the table, taking it slow until you have mastered to game basics. Here are some basic strategy tips to help you get started.