Serious Poker
by Dan Kimberg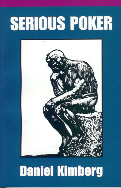 If you've been surfing around looking for poker information on the web, you've no doubt come across Dan Kimberg. For years, he's maintained Dan's Poker Page (now SeriousPoker.com) which has gained the respect of poker players everywhere. Now Kimberg has written 'A field guide to poker as it's played in casinos and cardrooms in North America and around the world.' This revised and streamlined edition features An Introduction to Serious Poker (including rules, etiquette and starting to play); Basic Strategy; Taking Poker Seriously, (advice on how to think about poker, understanding expectation and variance, money management and record keeping); Special Topics, which range from how tournaments work to how to avoid being cheated; and technical and reference material. Serious Poker fulfills the needs of serious poker players everywhere.

Dan Kimberg is an extraordinary poker player. It's not because he's won big tournaments, it's because he is deeply interested in the game, the players, the stories and the language. As Dan explains it he wrote Serious Poker to fill a major gap in the poker literature. Until the appearance of the book, no single work had collected all the information needed by beginners (and by many intermediate players with gaps in their poker education). Dan has also compiled a thorough dictionary of poker terms that is available at his webiste. He is a frequent contributor to Card Player Magazine.
Dan's day job is as a research assistant professor in the department of Neurology at the University of Pennsylvania, doing research on working memory and frontal lobe function, and developing software for functional neuroimaging. If you think this makes Dan stuffy, just check out his site to get a feel for his quirky sense of humor and general good nature. Dan lives with his wife Marianna in Pennsylvania.
Dan's website is www.seriouspoker.com