Omaha Poker - 21st Century Edition
by Bob Ciaffone

This book thoroughly explains Omaha, the action-packed poker form that uses four cards in your hand. It was originally printed in 1984, then greatly expanded in the Millennium Edition (1999) to give deeper coverage of the popular form for limit play, high-low split eight-or-better. Ciaffone has now republished it in 2006 under the new title 'Omaha Poker.' The entire book has been rewritten, with 20 extremely informative pages added on pot-limit Omaha high. If you have an earlier edition of the book, no need to buy the new one -- unless your game is pot-limit Omaha high, in which case you need the new book big time.

Middle Limit Hold'em Poker
by Bob Ciaffone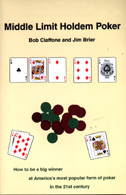 This book is written for the player who knows how to play hold'em and wants to improve his or her proficiency and move from low limit to middle limit, specifically when playing in public cardrooms or on the Internet.
The authors explain the theory behind middle-limit hold'em and illustrate it with hundreds of examples (five hundred hands). Every phase in a hand's development is explained in detail with key ideas and a set of problems. A thorough analysis is given on how an expert player would approach each problem. The book is broken into seven topics: Holdem Concepts, Preflop Play, Play On The Flop, Play On The Turn, Play At The River, Special Topics (bluffing, checking and calling, check-raising, etc) and Non-Standard Games. Also a page on Flop Odds Against Improving On Next Card.

Improve Your Poker
by Bob Ciaffone

One of the more respected writers of this generation, Ciaffone's material, now compiled under one cover, has previously appeared in a variety of publications. Here, he helps sharpen the skills of beginners and experienced players in ten different areas, including general concepts like beating a loose game, and tight/loose play. He moves to gambling skills like the mental side, and money management; then to Reading Opponents, including tells and using your eyes. A vital section on Deception and Bluffing is followed by incisive advice on Hold'em including raising and missing.
About Bob Ciaffone

Bob Ciaffone, nicknamed "The Coach," is a poker player, writer, and teacher. A leading authority on poker rules, as well as an author of many books on poker strategy, Bob's main focus is on playing games well and teaching others how to do so.
Bob is the man behind Robert's Rules of Poker, one of the most comprehensive collection of rules on the game in the world today. He has worked hard to ensure that his rules are accurate and in agreement with the rules of most card rooms around the country. He has also written a version of his rules for home players.
Bob is a well-known poker coach, helping players to improve their games. He teaches over the phone and the Internet with his clients ranging from beginners to professionals. His greatest teaching achievement was coaching Dr. Bruce Van Horn of Oklahoma in the 1996 World Championship; he finished second and won $600,000.
Bob has numerous poker tournament wins and placings, the most prominent being third place in the 1987 World Championship. He has been a poker teacher since 1995, with his students having earned well over a million dollars in tournament play so far. He is the author of a number of respected books on the subject of poker including Improve Your Poker, Pot-Limit & No-Limit Poker, and Omaha Hold'em Poker. Currently, Bob resides in Saginaw, Michigan.
Bob's website is www.pokercoach.us
Latest Bob Ciaffone Articles
Pool, Poker, and Gambling - Part I
To be a successful poker player - or a player of any other game in which you judge success by how much money you win - you must be a good gambler. Just being good at the game is not enough. Being a good gambler means many things, and one could write a whole book about the subject.
Strategy for Playing Aggressive Poker
Let us be clear that one can play tight in terms of initial involvement and still be an aggressive poker player. It is not how many pots you enter, but how you play once you are in, that determines if you are playing the kind of aggressive poker that is necessary.
The 'Kill Phil' strategy, and the chipless all-in move
What is the 'Kill Phil' strategy? Though it may be based on techniques for beating the likes Phil Hellmuth, is it worth considering if you are an inexperienced or seasoned poker player? Bob Ciaffone weighs in on the strategy.
Popped on the Turn
Getting raised on the turn is uncomfortable when all you have is one pair, even though that may be in the form of top pair or an overpair. The opponent "says" you are beat. If he speaks the truth, your outs are likely to be in the zero to five range. But poker is poker, and we do not fold every time the opponent represents a better hand than ours, especially in limit poker, where we are receiving pot odds.
The Story Behind Robert's Rules of Poker
Robert Ciaffone is a man of many talents. He is a successful professional player, a respected author, and a popular poker coach. One of Bob's passions is to create a poker rulebook that get's it right. In this article he tells the story of how his renowned Robert's Rules of Poker came to be.
Learning From Past Mistakes
The Spanish-born philosopher George Santayana said in his 1905 work, The Life of Reason, 'Those who cannot remember the past are condemned to repeat it.' Let us remember the unfortunate 20th-century American period known as Prohibition and how it can tell us a lot about what we should expect from the new law anti-online gambling law passed by Congress.