1000 Best Gambling Secrets
by Bill Burton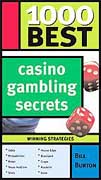 For people looking for an extra edge to improve their game or just the basic knowledge to play the games, Burton offers 1,000 winning strategies and tips to help readers feel at home in any casino. Hints include the truth about the most popular casino bets, what games should you avoid, the ten smartest bets and ten worst bets, getting the most bang for your buck , tricks of the trade and hundreds and hundreds more.

Get the Edge at Low Limit Texas Hold'em
by Bill Burton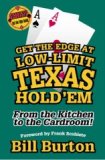 Low-Limit Texas Hold'em is the fastest-growing casino poker game. But new player often come to the poker rooms completely unprepared to play a winning game. Even so-called 'veteran' players are often long-term losers at the game because they have never taken the time to study how to play or analyze their own individual games. As author Bill Burton clearly shows in Get the Edge at Low-Limit Texas Hold'em, a savvy low-limit player can turn a profit at this game by exploiting the weaknesses of his or her opponents, and developing his or her own strengths.
About Bill Burton

Bill Burton made his first visit to a casino in 1980. After mediocre winnings and much excitement, he decided to learn everything he could about casino games to make himself an educated player.
Bill is the author of Get the Edge at Low Limit Texas Hold'em and 1000 Best Casino Gambling Secrets. Besides writing for the ReadyBetGo and About.com, he contributes articles for several national gaming publications including The Southern California Gaming Guide, Midwest Gaming and Travel and Southern Gaming and Destinations magazines, The Tunica Insider, The Crapshooter Newsletter. Bill is also an instructor for Golden Touch and teaches dice control at seminars around the country.
Bill's website is www.billburton.com
Latest Bill Burton Articles
Playing in a Short Handed Texas Hold'em Game
There are many times when you are playing Texas Hold'em where you will find yourself at a table that is not full. The following article gives you the best strategy to use in those circumnstances.
When to Play Single Aces in Poker
The biggest mistake that many losing Hold 'em players make is to play any two suited cards from any position which I refer to was ASAP. The second biggest mistake is playing a Single Ace from any Position.
How to Play Seven Card Stud
Until a few years ago, Seven Card Stud was the most popular poker game in the cardroom. In this article, Bill Burton explains how the game is played.
Starting Hands for Omaha 8- Hi/Lo
Choosing a starting hand in Omaha 8 can be a difficult task especially for a new player. Many players look at their four hole cards and look for a reason to play. Some players think any four cards can win and they should see every flop. Here's the real story on starting hands for Omaha Hi/Lo
Omaha Hi/Lo 8 or Better Explained
Low Limit Hi-Lo is gaining in popularity as many of the players like the chance of having a split pot. As Bill Burton explains, since the high and low are splitting the pot there are more players staying in for the River card making many of the pots very large.
Poker: Thinking Like a Pro
One of the things that separates the winning poker players from the losing players is they way they think when they are playing the game. Winning players take many factors into account before making a play. To win, you need to open your eyes, observe, and start thinking like the professional players do.
Learn How to Play Omaha Poker
Omaha may resemble Texas Hold'em in the fact that it is a game played with five community cards but the game is quite different. In this article, Bill Burton takes you through the rules of this interesting game.