Feel double the excitement with Slingo Rainbow Riches. The popular slot game Rainbow Riches has combined its great game and bonus features with bingo. SD Digital, the developer of Rainbow Riches, works

There are occasions when we here at ReadyBetGo want to bring you interesting facts about the gambling industry When something catches our eye, we will publish it for your enjoyment.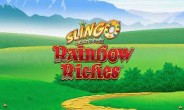 together with Slingo and now you can feel the excitement of first having multiple bingos and then playing the related bonus round. Find the Irish Pot of Gold to have maximum winnings, or will you stop at the Magic Toadstool Bonus? You can decide whether you stop or continue for bigger winnings. It's all up to you.
What is Slingo Rainbow Riches
Slingo is gaining more popularity among players of slot games as it is slots and bingo in one game. You have a 5 x 5 grid showing 25 numbers and with every spin you will receive 5 numbers or a special symbol. Once you start a game, you have 10 spins included and afterwards you can buy additional spins. The winnings always go up, but on the other hand so is the cost of your spins. When you climb the ladder of slingos, you will earn a bonus round of the game Rainbow Riches.
How to play Slingo Rainbow Riches
The first important step is to play Slingo at the
best UK Slingo sites
. After creating your account, select Slingo Rainbow Riches and choose your betting amount. This amount will give you 10 spins at Slingo Rainbow Riches. Each spin will show 5 numbers or a special symbol. Numbers will be crossed off the grid automatically, while a clown gives you an opportunity to cross one of your choosing on the same line or the whole board. You need to have as many bingos as possible. With each bingo gaining an extra step on the ladder it is wise to take a number from the diagonal line. After the normal round of 10 spins, you can buy unlimited additional spins or collect your price and bonus game. The less numbers you need, the higher those additional costs will be. As soon as you have 5 slingos, you will be able to play a bonus game:
Wishing Well (5 slingos): Pick your well and earn the mentioned prize.
Cash Crop (6 slingos): Coins with a multiplier are spinning and you will win the multiplier mentioned on the stopped coin. Will you get another round or do you need to collect.
Magic Toadstool (7 slingos): Pick minimum 3 toadstools and everytime a multiplier or fairy will appear. Get all toadstools for big winnings.
Magic Toadstools Red (8 slingos): Now you have a minimum of 4 picks which gives you higher chances to get all the toadstools.
Road to Riches (9 slingos): A wheel will appear with 6 numbers and a collect sign. You move forward the trail and win the corresponding multiplier when you hit collect.
Road to Riches Red (10 slingos): Exactly the same rules as Road to Riches but with higher multipliers.
Pots of Gold (12 slingos): Gold, silver and bronze pots are spinning around. Each pot has a high multiplier and they go from 50 to 1000. The pot that stops at the arrow, will be multiplied to your original t size.
Win big with Slingo Rainbow Riches
The biggest chance of winning big is when you hit 12 slingo lines on
Slingo Rainbow Riches
. This will activate the bonus round Pots of Gold and can give you a gold pot of up to 1000 times your first bet size. Getting a full house is mandatory for this but also Road to Riches or Road to Riches Red, will give you a fantastic win. Play it now and with unlimited additional spins you can almost certainly activate a great bonus round.